Christie & Co bring renowned Brighton freehouse pub to market for the first time since 1998
Specialist business property adviser, Christie & Co, is delighted to bring to market The Queensbury Arms in Brighton.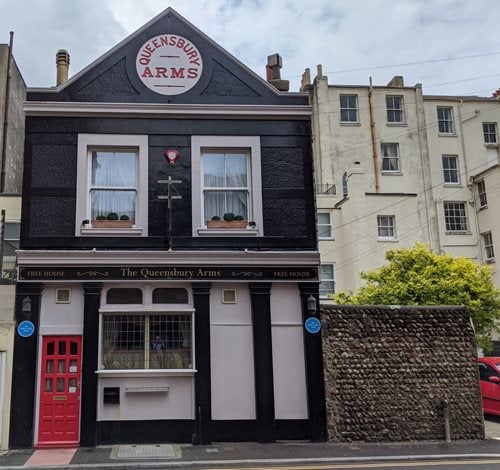 Formerly known as "The Hole in the Wall", this two-storey wet-only pub dates back to 1837 when it was a fisherman's haunt. It has retained much of its Victorian charm, which is enhanced by a large collection of bygone entertainment memorabilia. With its classic two bar interior seating 30, it is one of the smallest pubs in the city and has featured in many national publications as one of the "must see" pubs in Brighton.
 
The Queensbury Arms is one of the few remaining freehold free houses in Brighton and is ideally located in Queensbury Mews near the seafront, Metropole Hotel and The Grand. Brighton has long been popular as a seaside resort but is now often called "London by the Sea" because of its wide variety of bars, restaurants and entertainment venues including the famous Brighton Pier. With good communication links to London (53 miles to the north) and Gatwick airport via the M23 and rail, and being a commercial centre in its own right, Brighton attracts businesses, residents, and tourists from the UK and overseas.
 
Since 1998, the business has been privately owned by the current owners and at this time the property was extensively refurbished. The property has been well maintained to a high standard throughout the time of their ownership. Since re-opening the business, it has been successfully run by their resident manager, as the owners live elsewhere. The manager is now looking to retire, which has brought about the sale.

Over the years, the business has built up a good local and returning clientele, not just from Brighton but from around the country. It is well connected with the theatres, hotels, and conference trade as a welcome alternative to the standard city pub and hotel bars.

Simon Chaplin, Senior Director of Pubs & Restaurants at Christie & Co, who is handling the sale, comments, "This is one of the classic pubs of Brighton, with nearly 200 years of history. It is also one of the few remaining freehold freehouse so close to the heart of the city, so we expect considerable interest from locals and further afield."
 
The Queensbury Arms is on the market for an asking price of £465,000.

 
For further information on this press release, contact:
Phoebe Burrows, Corporate Communications Executive
P: 020 7448 8849 or E: phoebe.burrows@christie.com

Contact the agent:
Simon Chaplin, Senior Director – Corporate Pubs & Restaurants
P: 07764 241 351 or E: simon.chaplin@christie.com  
 
Visit our Business Search page to find out more about our current pub listings.