5/20/2021
|
Childcare & Education
Christie & Co launches global comparison report on impact of COVID-19 on ECEC markets
Specialist business property adviser, Christie & Co, has today launched 'The Impact of COVID-19 on Global Early Childhood Education & Care (ECEC) Markets' report, which analyses and compares the impact of COVID-19 on ECEC markets across five countries: United States, United Kingdom, Germany, Sweden and Australia.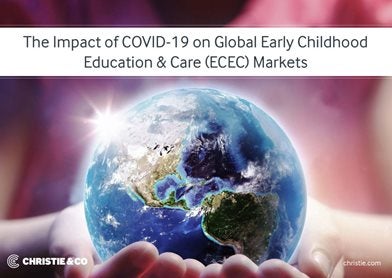 The report examines the impact of the pandemic on five selected countries and explores how the pandemic may shape the ECEC markets going forward. It considers pre-pandemic ECEC supply landscapes, mergers and acquisition sentiment during the pandemic, and looks at the effect of COVID-19 on fiscal support packages, birth and population rates, ECEC global market macro and micro factors, alongside demand, supply, and political stability. The report concludes with ECEC market predications for the remainder of 2021 and beyond.
Christie & Co raises similarities and differences associated with ECEC provision across the five countries and explores the raft of challenges that providers and practitioners have had to battle through.
ECEC settings across the selected countries introduced new COVID-secure operating procedures, with regulatory requirements having some similarities at their core, such as outdoor reception drop-offs, temperature checks and additional hygiene and cleaning protocols. Across a number of countries, ECEC operational group 'bubbles' have been introduced to mitigate the spread of infection. In some locations, new COVID-secure staffing ratios and square footage requirements have been implemented - as an example, for 3-year-olds in the state of Texas, the pre-COVID staffing ration of 1:15 has been reduced to 1:8.
Many ECEC providers have encountered workforce and occupancy challenges because of self-isolation requirements, teamed with reductions in occupancy arising from a combination of factors including parental nervousness during COVID-19, increases in unemployment and, in some cases, regulatory restrictions imposed on operating capacities and staffing ratios. Equally, the report highlights concerns relating to financial sustainability and the wellbeing of the global ECEC workforce, and indeed wellbeing and developmental gaps in children's attainment levels.
The pandemic has impacted unemployment across the world, yet none of the five countries of focus have seen such marked movements in unemployment rates as the USA, which recorded an unparalleled peak in unemployment in April 2020, at 14.8 per cent, before steadily declining to 6.7 per cent in December 2020. Every State saw unemployment rates greater than those documented during the Great Recession*.
Across all focus countries, extensive financial stimulus support packages have been introduced, with extraordinary levels of government financial spending supplied. Fiscal support measures in relation to job protection  have varied from country to country, with schemes such as Short-Time Compensation (STC) programmes in the USA, Kurzarbeit in Germany, the Coronavirus Job Retention Scheme in the UK, Short-Time work allowances in Sweden and the JobKeeper scheme in Australia.
Christie & Co remarked that, looking ahead, as these fiscal support measures inevitably end, sufficient funding needs to be made available so that the ECEC providers can meet the increased costs of delivery; recruit, train and retain qualified staff and support children throughout their early years. High-quality ECEC provision will be pivotal to each nation's future success, not just in economic terms but also with direct regard to health, well-being and attainment prospects for children who have seen much disruption during their early years due to COVID-19 and indeed the wider generation of COVID-19 babies, toddlers, pre-schooler, children, and young generations overall.
For many countries, being told to "stay at home" led people to speculate a spike in birth rates. France's national statistics institute published figures for the number of children born in January 2021 which shows a startling 13 per cent decline on the figure for January 2020. In the UK, research published by PWC in January 2021 reported that it expects the health, social and economic effects of the pandemic to result in a "baby bust" and a dramatic decline in birth rates in 2021. Data emerging in the USA on a State-by-State basis from December indicates that birth rates fell on average by some 7 per cent in comparison to 2019. In contrast, however, Germany is reported to have bucked the potential "baby bust" trend, with its federal statistical office reporting a 0.8 per cent increase in birth registrations during December 2020 and January 2021 compared with the same months in the previous years.
Across the globe, the pandemic has undoubtedly raised the profile of the ECEC sector, giving providers and practitioners the long overdue recognition they truly deserve. With a wider awakening and awareness of the importance of high-quality ECEC provision, comes new interest from prospective investors which adds to the demand from private equity, high-net-worth individuals, and philanthropic investors, all of whom face direct M&A competition from a wider range of ECEC trade buyers.
Courteney Donaldson, report author and Managing Director at Christie & Co, comments:
"Throughout the pandemic, we've spoken with our clients and frontline operators and are so overwhelmed by the dedication, collaboration and positive spirit they've held throughout what has been a truly unexpected time. We're conscious of the hurdles ECEC providers across the world have faced since March 2020 yet, despite immense challenges, they have truly gone above and beyond, evidencing how essential ECEC is as part of each country's essential services.
"It's brilliant to see many governments across the world finally crediting the vital work provided by ECEC providers, with many publicly applauding the dedication and collaboration of ECEC providers and the entire global ECEC workforce. Global ECEC markets have seen much interest and activity during recent years, with value growth and prices indices having moved forward year-on-year since 2016. The pandemic has notably raised the profile of the sector, resulting in continued movement and market transactions across the global ECEC business property market throughout the pandemic.
"We're proud to launch this independent, self-funded report, which analyses how five focus countries have worked through these unprecedented times and show that, despite differences, the key thing that unites this resilient sector is the willingness, drive, determination, commitment and collaboration of providers and practitioners to deliver the essential service of high-quality ECEC throughout the most challenging of times."
To read the full report, 'The Impact of COVID-19 on Global Early Childhood Education & Care (ECEC) Markets', click here: christie.com/ECECGlobalReport
*Source: Unemployment Rates During the COVID-19 Pandemic: In Brief', Congressional Research Service, 12 January 2021
For further information on this press release, contact:
Phoebe Burrows, Corporate Communications Executive
P: 020 7448 8849 or E: phoebe.burrows@christie.com
Contact the Author:
Courteney Donaldson, Managing Director – Childcare & Education
P: 07831 099 985 or E:  courteney.donaldson@christie.com