Family run convenience store finds new owners
Specialist business property adviser, Christie & Co has completed on the sale of C H Brown & Sons, an iconic local convenience store in Stechford, Birmingham, with funding secured through specialist commercial finance broker, Christie Finance.
Established in 1935, C H Brown has been owned and operated by the Brown family for over four generations, who have built an excellent local reputation throughout the years. Situated on a busy retail parade, the well established store offers a wide array of products, including chilled and frozen food, tobacco and off licence, as well as PayZone and National Lottery services.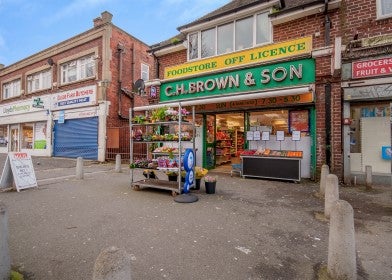 Previous owner, Stephen Brown comments, "Having spent our whole working life helping to run C H Brown and Son Ltd, we decided that now is the time to pursue other interests. With a tinge of sadness, we put the business for sale so it could continue to be run by hard working and energetic people.  

"We would like to welcome the new owners, Sanje and his team, who I am delighted to say intend to keep the name C H Brown, which will commemorate my grandfather, Cyril Harry Brown, and the history of the shop. A new refit is planned, opening hours will be extended and many other ideas will be implemented shortly, bringing the shop bang up to date once again!

"I would like to thank the staff past and present for all their hard work and effort over the years. I would also like to thank Karmen from Christie & Co for her work in finding Sanje and his team. Most importantly, I would like to thank all our wonderful customers for their support since we opened in 1935. Good luck to Sanje and his team. Our good wishes to all involved from the Brown family."

New owner and local operator, M&M Family 3 Ltd has worked in the convenience sector for a number of years and operates a convenience store situated a short distance away from C H Brown. They plan to undertake a full refurb of the store and will keep C H Brown as the name of the business, in honour of the family that built up its local reputation. 

Sanje Siva of M&M Family 3 Ltd comments, "We would like to thank Christie and Co who helped us complete this process and Karmen Freimuth who was there every step of the way to give us the right guidance for a smooth transaction. We would like to wish the Brown family all the best for the future."

Stuart Pawelczyk, Director at Christie Finance, worked with Sanje and his family to secure funding for the purchase of C H Brown & Sons. He comments, "My clients are all highly experienced retailers, operating several leasehold stores and petrol filling stations across the Midlands and South. They have developed an excellent reputation within the sector, enabling them to negotiate excellent terms with suppliers for the benefit of their customers. In view of this, I am confident they will make a real success of operating C H Brown & Sons and I hope to work with them all again in the future."

Karmen Freimuth, Business Agent at Christie & Co handled the sale and comments, "I am thrilled for Sanje and M&M Family 3 to be taking over the business that the Browns have established over generations. Sanje is not thinking small and has great plans for the store. He will be keeping the Brown's name but rebranding under the Premier facia. I wish the M&M family the best of luck with the new business and the Browns with their future ventures."