Farlam Hall in Cumbria welcomes new owners and management team through Christie & Co
Farlam Hall, an award-winning country house hotel near Brampton, Cumbria, has been sold through specialist business property adviser, Christie & Co, to experienced, international operators, with a new management team joining alongside the new owners.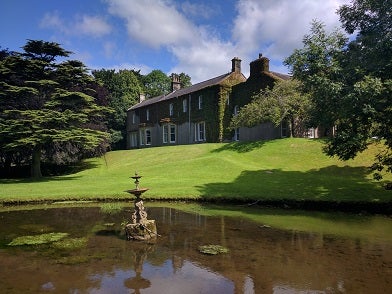 The Grade II listed, 19th century property sits on six acres of well maintained lawns and woodland, with its own stream and ornamental lake, and offers a picturesque and luxurious setting for guests. Comprising 12 en suite guest bedrooms, a substantial 40 cover restaurant, two comfortable lounges with open fireplaces, and function spaces for weddings and special events, the hotel caters for a variety of guests.

The site also features four additional properties including a recently renovated two bedroom bungalow, a self contained three-bedroom cottage and two one-bedroom cottages, all of which were included in the sale.

Situated in the scenic Cumbrian countryside, Farlam Hall offers visitors easy access to nearby tourist favourites including Hadrian's Wall UNESCO World Heritage site, Northumberland National Park, the Lake District National Park, and North Pennines AONB.

Having owned and operated the business for over four decades, the Quinion family decided to sell Farlam Hall in order to retire, having built up an established and highly regarded reputation as a bespoke boutique hotel destination. They comment, "We have had a wonderful 44 years here and we are selling with a heavy heart, but the time has come for us to move on. We wish the new owners, Joe and Kathy, and also the new managers, Peter and BB, all the very best for the future."

The new owners, Joe Walter and Kathy Mares, are based in Seattle, Washington, in the United States and have strong experience in the hospitality sector, also currently owning a high quality bed and breakfast in Carmel, California. Regular visitors to Cumbria and frequent guests at the hotel over the years, Joe and Kathy were keen to purchase Farlam Hall as they love the area's natural beauty. Joe & Kathy comment, "We are very excited to build on the long legacy of excellent hospitality established by the Quinion family. Farlam Hall is a real treasure for this area and will continue to be a great stopping point to explore the region and travel to other points of interest in the Lake District and Scotland."

Alongside the new owners, the sale of the hotel sees a management team being introduced, husband and wife team, Peter and BB Hall. Having initially shown interest in purchasing Farlam Hall, Peter and BB took the opportunity to operate as managers of the hotel following the sale. Peter comments, "Both BB and I are delighted to have been tasked with taking Farlam Hall forward. We have been touched by the warm welcome we have received from both existing guests and staff, many of whom have connections with the hotel over many years. This is testament to the warm and welcoming reputation of Farlam Hall, something we are very much focused on building upon. As we take Farlam Hall forward into a new era, we look forward to welcoming guests both old and new."

Mark Worley, Director at Christie & Co who handled the sale, comments, "It has been a pleasure to act for such a lovely family as the Quinions, who had been ideally suited to the hospitality industry. It was also great to be given the task of selling such a beautiful hotel in a picturesque part of the world. There was so much goodwill surrounding this sale, between the buyers and sellers and also the management team and this helped hugely in smoothly completing the sale process. 

"This deal illustrates the demand for UK hotel and leisure businesses from overseas buyers and also demonstrates the global reach of our network at Christie & Co."

Michael Walby and Sue Scott from Burnetts Solicitors acted on behalf of Joe Walter and Kathy Mares in the acquisition of Farlam Hall.

Farlam Hall was sold off an asking price of £995,000 for the freehold interest of the hotel, with the additional accommodation included at a supplementary cost.