6/28/2019
|
Childcare & Education
Half year review of the childcare & education markets: strong demand for quality and high levels of activity continue across the sectors
Specialist business property adviser, Christie & Co provides an overview of the childcare & education markets in the first half of 2019, reflecting on previous predictions, emerging trends and challenges facing the sector.
Christie & Co's Business Outlook 2019 report predicted the childcare market would become increasingly divergent with more closures and businesses in distress but equally high purchaser demand and strong performances for high quality settings. In the education market, Christie & Co highlighted an expected increase in independent school closures, particularly those outside of London and the South East, while in the specialist childcare market, foster care businesses were predicted to attract premium prices and buyer demand will continue to exceed supply for residential care homes.
 
Children's day care

Whilst Christie & Co has seen some distressed assets come to the market this year, as predicted, with some of the smaller settings succumbing to the effect of the 30 hours of free childcare provision, demand for high quality, settings and small groups has continued to outstrip supply, maintaining the premium prices for the highest quality businesses, as seen last year. 

While the sector continues to be buoyant, Christie & Co anticipates that multiples may be reaching a ceiling as buyers start to resist the continued trend of increasing prices, whilst the buyer pool continues to be incredibly strong. This includes first time buyers, consolidation from small and regional operators, nationwide growth from the corporate operators and investors, alongside continued International interest as highlighted by Christie & Co in Business Outlook 2019. 

Buyer types in transactions completed by Christie & Co in the last 12 months and 6 months show little change over the period, with first time buyers making up almost half and corporates comprising a third, showing the wide range in the buyer pool.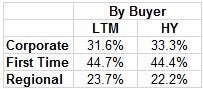 Also previously noted by Christie & Co, 2019 has seen increased interest amongst traditional elderly care home developers looking at the benefits and potential of co-locating care homes with nursery provision. Increasingly this year we have seen evidence of developers and investors giving due consideration to the prospect and opportunities that could be presented in such circumstances. 

Christie & Co will provide further insight into the day nursery sector with its upcoming research report due to be published in September 2019.
 
Independent education

The independent education market remains highly fragmented, although demand for independent schools continues to outweigh supply, with competition for profitable, good quality settings fierce, from both domestic and international purchasers. Christie & Co predicted more distressed businesses in 2019 and whilst there have been signs of this in the first half of the year, it is anticipated that the number of school closures will increase towards the year end.

The Teachers' Pension Scheme contribution rate increase from 16.48% to 23.6%, in effect from September 2019, is anticipated by Christie & Co to be a potentially final blow for many education businesses already struggling with sustainability, much like the 30 hours funding was a final straw for nursery provisions.

Private equity groups and smaller education providers such as Synova Capital, China First Capital Group, Dukes Education, Oxford International Education Group, GEMS Education, Bellevue Education Group, and Inspired Learning Group illustrate the wide pool of purchasers that continue to grow their portfolios via selective investments and acquisitions.
 
Specialist childcare

Christie & Co's specialist childcare team have been increasingly active across the residential children's home, specialist education and foster care business sectors. Overall, so far this year, the trends in children's residential care and foster care sectors were as predicted, with an increase in local authority referrals towards residential settings being seen. Notably buyers are increasingly being drawn to businesses which offer quality therapeutic and high acuity care, further fuelling demand from providers seeking vacant premises suitable for business expansion and existing business acquisition opportunities. Notable 2019 transactions include Waterland Private Equity's investment in Sandcastle Care. 

Christie & Co anticipates increased activity in the specialist childcare sector during the second half of 2019 and anticipate that some notable nationwide transactions will fuel buyer demand and premiums.
 
Brexit

While no overt impact of Brexit has been seen in the UK childcare market, Christie & Co identifies that the first half of the year has seen a slowdown in the speed of some transactions, which they attribute to additional caution and due diligence being undertaken by buyers. 

Continuing on from 2018, international interest has not been impeded by Brexit, as Christie & Co notes appetite from overseas growing, notably from China, the Far East and Europe, for high calibre businesses, with strong management teams and proven earnings. 

This has been exemplified recently in the education market with Bright Scholar Education, the largest operator of international and bilingual K-12 schools in China, acquiring two independent schools; St Michael's in Llanelli, Wales, and Bosworth Independent College in Northampton. Both assets are highly ranked, reputable schools with long histories for delivering quality education, having been established in 1923 and 1977 respectively. 

Courteney Donaldson, Managing Director – Childcare & Education comments, "While the volume of transactions across the UK childcare and education sectors, so far this year, has been marginally lower in comparison to the same period prior in 2018. As we reported in January, 2018 saw unprecedented levels of both deals activity and pricing premiums, with numerous notable portfolio transactions. 

"During the first six months of 2019, while deal volumes have stabilised, the premiums achieved for the most desirable businesses have continued to rise. Demand across the market for businesses of all sizes remains incredibly strong, and indeed the primary trend of 2019 thus far is that demand from buyers is exceeding supply."

For more information on our Childcare & Education team and recent activity, click here.