Historic Holy Island hotel sold
The Manor House Hotel on the Holy Island of Lindisfarne has been sold by specialist business property advisor Christie & Co.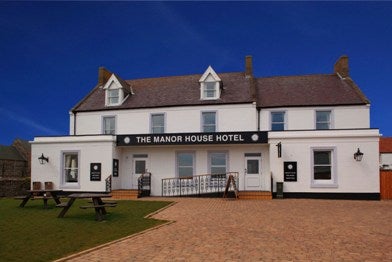 The impressive and very popular 10 bedroom hotel was once the summer home of the lord of several local manors, and has been owned and operated for many years by John and Carol Barlow who were looking to retire and instructed Christie & Co to handle the sale.

Holy Island is situated off the stunning Northumberland Coast just 9 miles from Berwick upon Tweed and was regarded as the epicentre of Christianity in the Anglo Saxon times. It is reached by a tidal causeway and is home to a picturesque and thriving village, the focal point being the magnificent Lindisfarne Castle which rises out of the sea at the South East tip of the island. Also on the island are the ruins of Lindisfarne Priory and also Lindisfarne National Nature Reserve which is a home to a vast array of bird species and wildlife.

The buyer is Terry Maughan, a regional hotel and leisure operator with three other businesses in Northumberland.  He intends to change very little other than to extend opening hours and the food offer, otherwise he feels the hotel requires little in the way of investment, which is a testament to the seller.

The vendor, John Barlow comments, "As we had no experience in selling a business like this before, we didn't know what to expect, but were delighted by the way Mark and his team guided us almost seamlessly through the process."

Mark Worley, Director at Christie & Co's Newcastle office commented, "We received a high level of interest and arranged many viewings which produced multiple offers on the property. These came from a variety of potential buyers, all of whom intended to retain the business in its present form as a hotel with bar and restaurant. The buyer is a well known multi site leisure operator who intends to invest in the building and the business.

"This sale continues to demonstrate the demand for small to medium, privately owned hotel assets. On this occasion, the idyllic and historic surroundings, good trade and profit levels and well a maintained and attractive building, all combined to increase the popularity of the business."

The hotel was sold off an asking price of £795,000.