Manchester's Infamous Diner is up for sale
Infamous Diner in Manchester's Northern Quarter has been brought to the market by specialist business property adviser, Christie & Co.
The owner, Mark Andrew has decided to sell the business in order to concentrate on his more drinks-led cocktail bars and venues in Manchester such as Walrus, Tusk, Fitzgerald, Rosylee and Hula.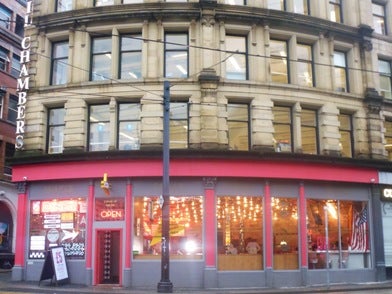 Click here for sales details and contact information

The 1950s American diner-themed restaurant which opened in July 2015, occupies the ground floor and part of the basement in the Basil Chambers complex currently serving a range of traditional American classics such as hot dogs, burgers, milkshakes and cocktails.

Keith Stringer, Associate Director in Christie & Co's Manchester office who is handling the sale comments, "Whilst the diner is both popular and profitable, the current owner is looking to concentrate on his more drinks-led operations. We have already received a lot of interest from a range of buyers who want to take advantage of its prime location and reputation so we hope to be welcoming something new and exciting to Manchester city centre in the near future."

The leasehold of Infamous Diner is on the market for £500,000 with an annual rent of £60,000.