Successful vegetarian restaurant seeking new owner with Christie & Co
Specialist business property advisor, Christie & Co has brought to the market Woody's restaurant, in Hemel Hempstead.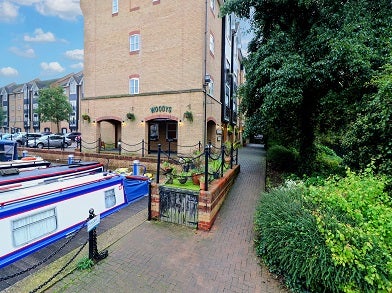 The current owner Robert Giambrone opened Woody's in 2000 and ran the restaurant for nearly two decades before recently deciding to close the restaurant for personal reasons.  He has taken the decision to sell Woody's in order to retire.  The venue is listed as one of the top places to go to eat in Hemel Hempsted on Trip Advisor and has received their Certificate of Excellence from 2015-2018.
 
The restaurant is located in Dickinson Quay, two miles away from the centre of Hemel Hempstead. It is surrounded by other licensed businesses and flats meaning no shortage of footfall. The view over the marina and Grand Union Canal gives a pleasant Mediterranean feel and is a continual draw for the property.
 
This light, attractive restaurant seats 70 and features an open plan kitchen which allows diners to see their food being prepared. In addition, there is an outside seating area for up to 50 which gives guests a beautiful view of the marina and canal. 
   
This is an ideal opportunity for a new operator to benefit from the goodwill generated by the previous vegetarian concept, but also offers many possibilities for the new owner or investor to reimagine the space to create an entirely new offering to the area.  The beautiful location surrounded by many hundreds of residents, provides an ideal location for a business opportunity.
 
Current owner, Robert Giambrone, comments "It was a real pleasure running Woody's for so many years, we were well supported by the local community and had a great deal of repeat business. A new owner would do very well here either continuing as Woody's or in their own style."
 
Tim Widdow, Business Agent at Christie & Co, is handling the sale and comments, "This is a fantastic opportunity for a new operator to take advantage of a strong trading location with beautiful views of the marina and Grand Union Canal. The restaurant has great flexibility and the local community would no doubt welcome a new offering to the area."
 
Woody's is on the market at an asking price of £575,000 for the long leasehold interest with over 100 years remaining.

---ENDS---
 
For further information on this press release, contact:

Fiona Fieldhouse, Head of Corporate Communications
P: 020 7227 0793 or E: fiona.fieldhouse@christie.com

For further information on this listing, visit our website:
https://www.christie.com/properties/restaurants/a2j4g000009tjekua0/
 
Contact the agent:
Tim Widdow, Business Agent
P: +44 118 402 1652
E: tim.widdow@christie.com
 
Visit our Business Search page to find out more about our current restaurant listings.