New Christie & Co report: Spanish Hotel Market: Canary Islands
Christie & co, the leading specialist hotel property advisor, releases its new update on the report: "Spanish Hotel Market: Most Competitive Cities", published for first time in 2016.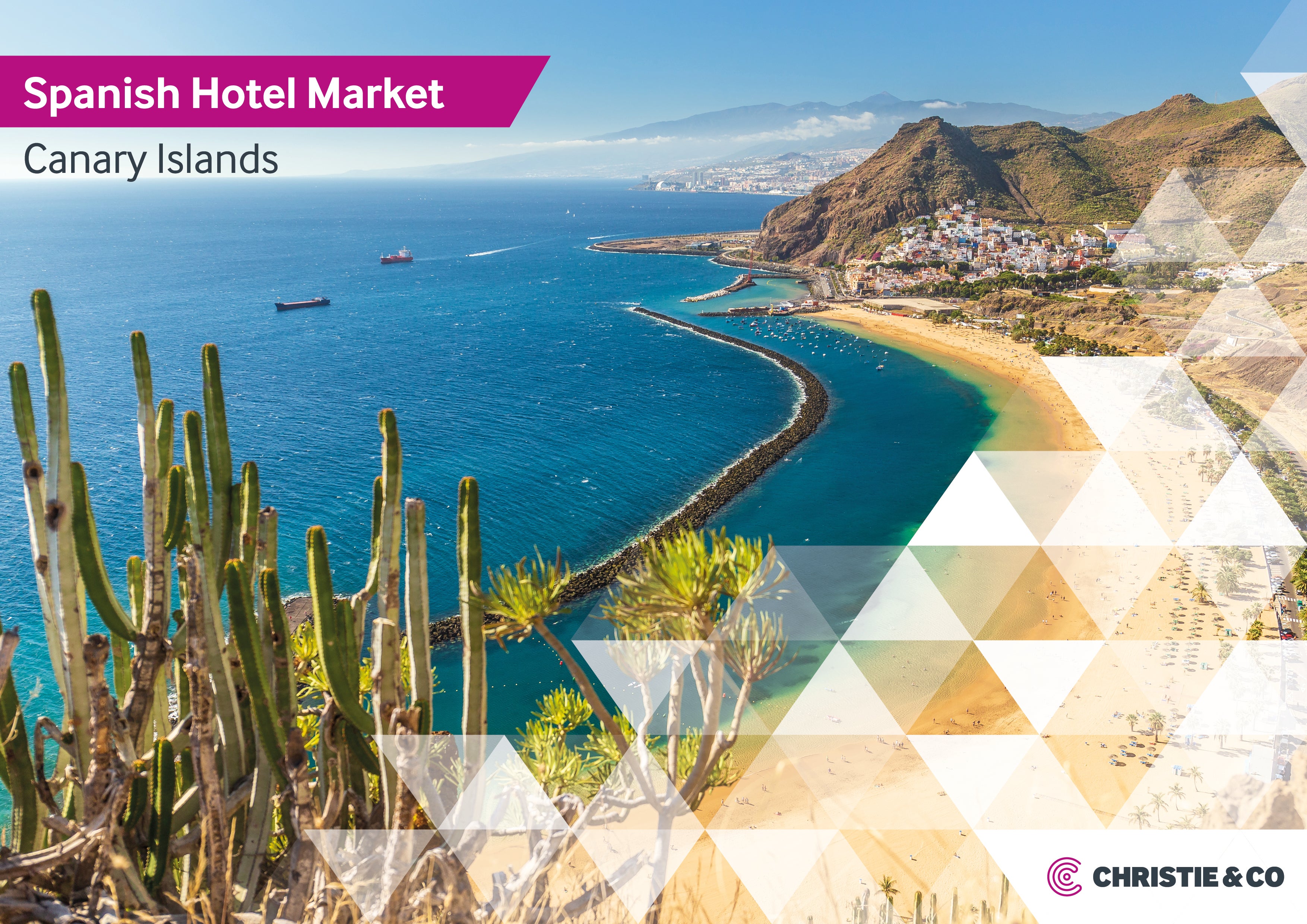 The more than 82 million international tourist arrivals registered in 2017 marked a new record in tourism in Spain, while the Canary Islands, by themselves, received more than 8 million international tourists over the past year. As a result, the Spanish hotel market has experienced an extraordinary boom in recent years, reflected in its repeated profitability increases. However, the recovery of competing 'sun and beach' destinations such as Tunisia, Egypt and Turkey, represent a threat that has already begun to be felt in Spanish holiday destinations like the Canary Islands.

This new Christie & Co report on the Canary Islands hotel market in 2017 and year-to-date 2018, up to the end of August, analyses the available statistical data to determine if this threat has really affected the destination in the last two years according to its key performance indicators: hotel demand, offer and profitability.

According to data published by the Canary Institute of Statistics (ISTAC), which offers an objective view of the islands with special attention paid to those islands which are more competitive in tourism, those that generate the greatest interest among the main players in the tourism industry, including investors and operators, are: Gran Canaria, Tenerife, Fuerteventura, and Lanzarote. The islands of La Gomera, La Palma and El Hierro are not analysed individually due to the low tourist weight they represent with respect to the region, accounting for only 2.5% of the overnight stays recorded in the whole of the islands in 2017.

The Christie & Co report states that, on an individual level, Gran Canaria is in the lead both in terms of RevPar (EUR 82.47 in 2017) and occupancy (86.6% in 2017), despite registering a slight decrease (-0.4% and -0.5% respectively) on 2016 data. Up to August 2018, the island registered a more pronounced decrease in both indicators, registering EUR 77.97 in RevPar (-3.2% compared to the same period in 2017) and 83.3% in terms of occupancy (-3% compared to August 2017). Average price (ADR), in the case of Gran Canaria, is, the indicator that shows the least difference, recording EUR 95.25 in 2017 (+0.1% compared to 2016) and EUR 93.60 up to August 2016 (-0.2% compared to August 2017).

Gran Canaria is closely followed in absolute terms by Tenerife, which registered a RevPar of EUR 80.80 in 2017 (registering an increase of 3.7% on the previous year), an occupancy of 84.9% (-2.1% vs. 2016) and an average price of EUR 95.22 (+5.9% compared to 2016). The updated data up to August 2018 again shows a stabilisation in 2018, with a decrease of 4.3% in terms of RevPar (down to EUR 76.80), of 4.9% in occupancy terms (down to 81.1%) and a slight increase of 0.6% in terms of average price, far from the 2016-2017 year-on-year increase.

Fuerteventura, on the other hand, is the island with the lowest negative year-on-year values, with a RevPar of EUR 77.66 in 2017 (+8.5% compared to 2016), that has not reduced in the January-August period of 2018. On the contrary, it has accumulated a 2% increase, being the only island that registers a positive evolution in terms of RevPar YTD. As for occupancy, it increased by 0.4% in 2017 compared to 2016 (up to 86%) but has decreased slightly (-0.2%) in the January-August period of 2018 down to 84.1%. In terms of average price, the island has registered a continuous increase, with EUR 90.35 in 2017 (+8.1% compared to 2016) and EUR 90.10 to August 2018 (+2.3% compared to the same period in 2017).

In the case of Lanzarote, the positive trend found in Fuerteventura continues, being the island that recorded the greatest increase in RevPar in 2017, reaching EUR 76.60 (+14% compared to 2016). However, it registers a decline in the period January-August 2018 (-0.7% with respect to the same period in 2017). Regarding occupancy, Lanzarote registered 86.1% in 2017 (-0.7% vs. 2016) and 82.9% up to August 2018 (-4.1% compared to January-August 2017), thus continuing the generalised downward trend, especially seen in Gran Canaria and Tenerife. In terms of average price, Lanzarote also recorded the largest increases, having reached EUR 88.94 in 2017 (and a record increase of +14.8% over 2016) and EUR 91.40 euros through August 2018 (+3.5) % vs August 2017).

Joan Bagó, Analyst in the Christie & Co Spain & Portugal Consultancy Division, and responsible for the report, comments, "After an exceptional 2017 for the Canary Islands hotel sector, the results obtained in 2018 indicate a stabilisation of the tourist growth of the islands, with the decrease in occupancy being the main reason for the RevPAR decline".

Inmaculada Ranera, Managing Director at Christie & Co Spain & Portugal, adds, "The Canary Islands has been established as a destination that continues to be very attractive for both operators and national and international investors. Despite the threat of recovery of certain Mediterranean markets that offer competition, the Canaries tourism industry has improved its offer quality in recent years, which places it as a holiday destination in a first-class market in Europe".