1/24/2022
|
Dental Practices
The Scottish Dental Market: A Year in Review
Senior Business Agent, Joel Mannix, reviews the Scottish dental business market in 2021 and takes a look at what's to come in 2022...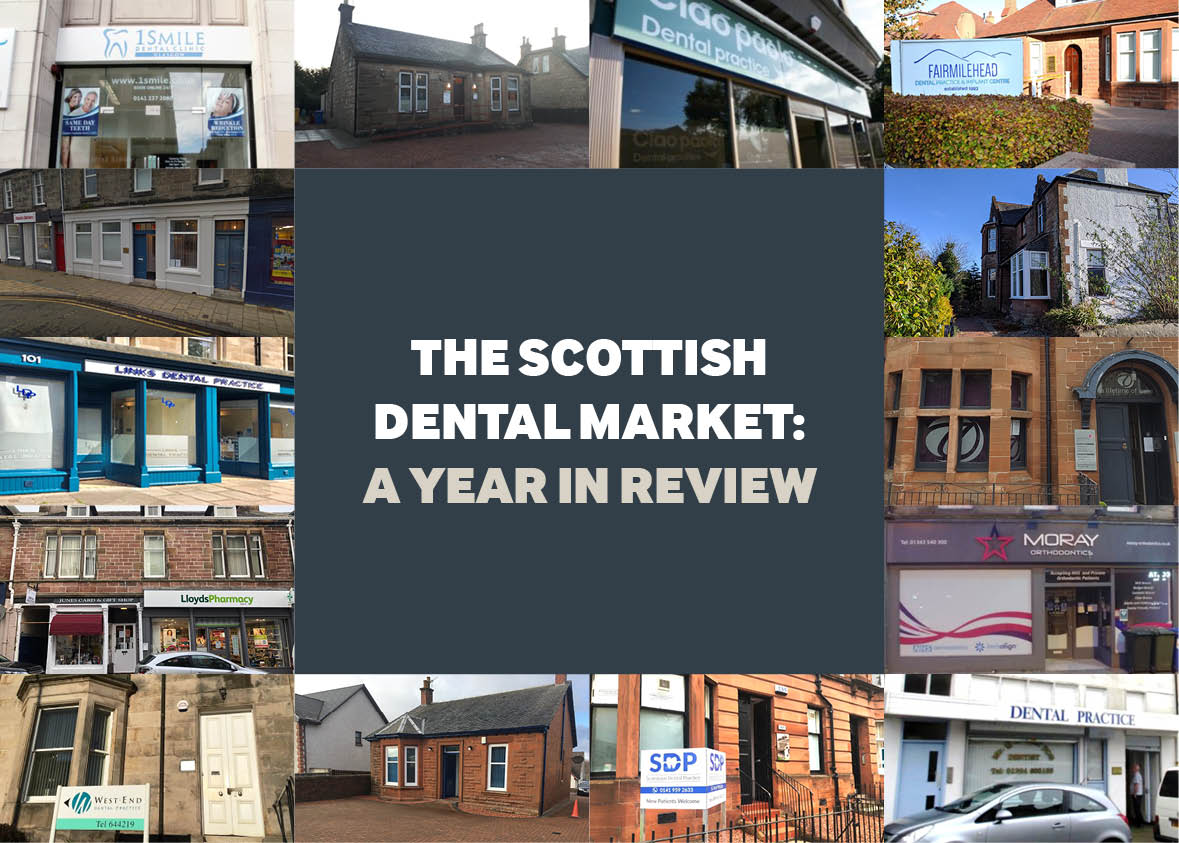 At Christie & Co, we sold a record number of practices in 2021– a 260% increase on 2020 - thanks to huge buyer appetite, with many prospective purchasers going out of their comfort zone, considering more rural areas for practice ownership.
We've sold a range of practices from private to mixed income, and specialist dental clinics to orthodontic practices. The majority of deals are achieving premium prices as well as enhanced post-sale conditions, with buyers moving to improve their offers in order to beat competition and secure the sale.
Since 2019, we've seen Scottish instructions increase by 15% and viewings of practices increase by 38% which indicates that, although supply in the market is improving, it still cannot meet the current demand.  
Here are a few key Scottish deals from the year just gone…
Established in 2014, Moray Orthodontics is a two-surgery, mixed-income orthodontics practice, treating children, adults and referring dentists in the North of Scotland. Located in the heart of Elgin town centre in Morayshire, the practice has developed an enviable reputation across the region with around 20 practices within the area referring into the clinic. Moray Orthodontics previous Principal has decided to relocate back to Spain and was sold to large Scottish group.
Situated in Renfield Street, in the heart of Glasgow city centre, 1Smile Dental Clinic offers a full range of dentistry, including cosmetic, restorative and implants. The practice benefits from a prominent trading location on one of the main thoroughfares in the city, with regular bus services close by as well as both city centre train stations just a few minutes' walk from the practice. The business has been sold to a pair of first-time buyers.
West End Dental Practice is a mixed, three-surgery practice with a loyal base of over 5,500 registered patients. The practice occupies the ground and first floors of a traditional Victorian villa with many of the original period features remaining and benefits from a prominent trading location in Dundee's salubrious west end. West End Dental Practice was operated by the previous Principal for over 25 years with the business being developed into one of the best practices in the area. After appointing Christie & Co to market the business, it sold to a first-time buyer and former Associate at the practice.
Fairmilehead Dental Practice & Implant Centre is a well-established three-surgery practice not far from Edinburgh city centre and is one of just a few Scottish Denplan Excel Accredited practices. It has 3000 private patients and treats children on the NHS. The practice was founded in 1993 by Dr Duncan Robertson who, for the past 17 years, has specialised in implants and notably invented a crown-to-implant connection in 2012 called the Orbital Connector. Fairmilehead Dental Practice sold to expanding national dental group, as part of its wider expansion plans.
What to expect in 2022
As we move further into 2022, the dental industry finds itself in the same juxtaposed state of operational challenges and high commercial demand. Appetite from buyers is at an all time high with Christie & Co facilitating much of the market success. We are likely to see a larger number of practices coming to the market in 2022, which will help satisfy buyer demand.
Ongoing COVID variant outbreaks can make upholding levels of revenue difficult. However, the increase in consumer spend for higher value private treatments has helped operators to recover and, in many cases, exceed previous income levels. 2021 was a high year for the Scottish dental business market, and we expect 2022 to be even bigger.
To find out more about the Scottish dental market, or for a confidential chat about your business, contact joel.mannix@christie.com.