What does Covid-19 mean for the childcare market?
At last week's NMT Discussions webinar, Christie & Co's Childcare & Education experts discussed the impact of Covid-19 on the childcare market.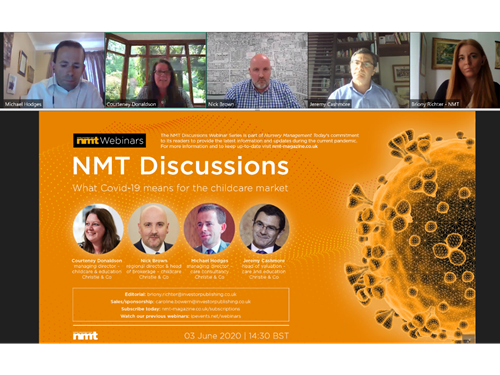 On 3 June 2020, a stellar panel comprising four childcare and education experts from Christie & Co (Courteney Donaldson, MD of Childcare & Education; Nick Brown, Director and Head of Childcare Brokerage; Michael Hodges, MD of Healthcare Consultancy; Jeremy Cashmore, Head of Care & Education Valuations) joined Nursery Management Today's Briony Richter for a 45 minute webinar where the they discussed the impact of the global Covid-19 pandemic on the UK childcare market and answered audience live questions.

The event received 332 registrations and 296 attendees who watched online from start to finish, the highest audience numbers the magazine has seen since NMT Discussions began on 14 April.

Below are some of the key discussion points and what our experts had to say.
 
How have you seen the pandemic affect investor interest?

"Despite the operational and economic shockwaves caused by Covid-19, Christie & Co has continued to see strong investor appetite. We know from experience, as evidenced by historic recessions, the nursery sector has proven to be strong and resilient. Despite being in uncertain times, we are still seeing wide ranging investor interest spanning from private equity, through to first-time buyers, trade operations, alongside global and indeed domestic financial institutions, all of whom are attracted to the sector due to the strong underpinning demographic drivers, demand and supply factors and indeed the opportunity to consolidate in what is a very fragmented market.  During recent weeks and amid the pandemic, we have seen evidence of debt retrenchment processes in the US, the impact of which, in time, will be felt in the UK, and indeed across the wider global financial markets - this in turn could impact on loan-to-value ratios, which in looking forward could create changes in the market." Courteney Donaldson 

"We've been receiving calls from investors who are taking a longer-term view of childcare. The realisation that the childcare sector has a fundamental needs-driven infrastructure has undoubtedly gained momentum. As businesses are re-opening, people have that need and, now more than ever, parents are really appreciating the value of childcare, too. The early years sector remains underpinned by need… It will come back but there will be some short-term challenges." Michael Hodges
 
What do you expect the long- and short-term effects will be on the sector?

"It's really all about looking forward at this crunch point in time. Initial occupancy of childcare settings will be varied, as more and more children are forecast to attend in the coming weeks. But September is a crucial point in the year where owners will get a feel for what the year ahead will look like." Courteney Donaldson

"We don't know how Covid-19 is going to behave in the next month, and we don't know if there will be a second wave. Every business is also unique in its own right; If a nursery is in a business park location, for example, where lots of parents are still able to work from home, it will be different to a nursery that's based near a hospital. As a company, we will guide them based on their circumstances and specific challenges." Michael Hodges
 
What challenges and opportunities does the industry face going forward?

"It's important to look at the positives that we have been able to take away, like the sharing of information and how international business are dealing with the situation in their local areas. There has been an international collaboration with the challenges, and it has been interesting to see what steps other countries have been taking. Throughout the pandemic, we've seen many operators really supporting each other, and we're spending more time in communication with people which is really positive." Courteney Donaldson

"Banks have been inundated with contact from businesses across the UK and have had a challenging task with things like CBILS applications. I would say to owners, speak with your bank manager - they want to help you as best as they can." Courteney Donaldson
 
Compared to other sectors Christie & Co is involved in, how have nurseries fared?

"If you look at healthcare, care homes and pharmacies have been in heat of the pandemic and very much open. Dental practices and day nurseries are needs-driven businesses but have been largely shut, offering materially reduced services albeit both are now starting to open. These healthcare sectors contrast with the hospitality, hotel and leisure sectors which have been effectively mothballed by the pandemic and we wait to see how the latter will re-open." Michael Hodges

"Care homes are seeing occupancy from 90% - 70% and this may take up to 12 months to return, but in childcare we would expect to see the increase in occupancy sooner, given the demand." Jeremy Cashmore

"Whilst the return of children has been very positive over the first few days of re-opening, it may take several weeks or even longer for some to get back to normal levels, a phased comeback is a logical way of dealing with children returning, enabling the staff and children to get comfortable with the new policies and procedures. For some, returning their children to nursery is a choice rather than a need, but there are other factors to consider, for example if the child would be leaving for school that year anyway and if other siblings are not at school yet this may hold back younger ones returning to nursery while parents are still at home. As time goes on, more will feel safe to return and want to be with their friends and others will follow suit." Nick Brown
 
Nursery purchase prices haven't changed despite the pandemic, why do you think this is?  

"As, at this point in time, we are 12 weeks into a lockdown which saw an instruction for all nurseries to cease trading during late March, unless those settings were providing care to key, frontline workers' children. At the point of that closure, the operational landscape changed overnight. Purchase prices haven't changed during this period because ultimately vendors and buyers alike have been waiting to see what degree of occupancy returns to a setting when it is permitted to be open - only then will true visibility of the potential impact of the pandemic on that business be evident." Courteney Donaldson

"Looking from a buyer's perspective, maybe they would try to use the current situation to their advantage. Vendors have the opposite opinion, they need time for children to return and for occupancy to rise, just because they have had to pause normal practise does not make nurseries automatically bad businesses overnight, some settings could see their occupancy rise above where it was previously as there is the potential for neighbouring settings to close. Across the country we are sure to see some settings struggle and some which won't reopen." Nick Brown
 
What advice would you give to nursery owners who are approaching banks for support at this time?  

"Banks have been 100% focused on helping their existing customers. They are open for business and they want to support the sector. My advice would be to have up-to-date accounts, have management data prepared, and be ready to have a discussion, because there will be options. Be flexible and be prepared to shop around if what you're being offered doesn't meet your requirements." Jeremy Cashmore
 
Are Christie & Co seeing regional trends when it comes to demand?

"There's a recent report by Rightmove that shows that, as people during the pandemic have worked from home, and in cases very successfully worked from home, working behaviours could well change going forward. Increasingly, there is a sentiment that, even when offices do reopen, home working may become more prevalent with fewer weekly trips to the office being required. This train of thought could underpin some of the new trends that are emerging. As the Rightmove report noted, families may start to consider moving further out from city centres and some suburbs into less densely populated locations which still benefit from great schools and nurseries but have more extensive outdoor space on the doorstep." Courteney Donaldson
 
Are there any issues with buying a closed nursery setting?

"If owners do not intend to reopen, then they are selling based on vacant possession. This will be based on comparable bricks and mortar valuations." Courteney Donaldson

"In the past we've seen a strong demand for vacant settings. Providing there is the need for a childcare setting in that specific location, then this can result in a number of parties bidding to secure the opportunity." Nick Brown
 
Christie & Co is happy to help with any further questions you may have on the childcare market, so please do not hesitate to get in touch. We will be delighted to assist and treat each conversation with the strictest confidence.

To watch the full webinar available now on the NMT website, click here.

To find out more about future NMT Discussion webinars, click here.