Brunning & Price complete first acquisition of the year through Christie & Co
​With the help of specialist business property adviser, Christie & Co, Brunning & Price have started 2018 with their first acquisition of the year, completing on the purchase of the Arrow Mill, Alcester between Stratford upon Avon and Worcester. Standing in over 50 acres on the banks of the River Arrow, this former flour mill dates back to the early 1800's and had been run by the Woodhams family for over 30 years.
Christie & Co's Birmingham office visited the vendors in September 2017 and Senior Business Agent, Charles Jones, quickly identified that the Arrow Mill would be ideal for one of Brunning & Price's destination pub restaurants due to its location and waterside setting.

Brunning & Price will now sympathetically convert the building to their format and hope to re-open the new look Arrow Mill in time for the summer. This acquisition comes alongside the most recent addition to the Brunning & Price collection with the opening of the Old Courthouse in Cheltenham planned for February.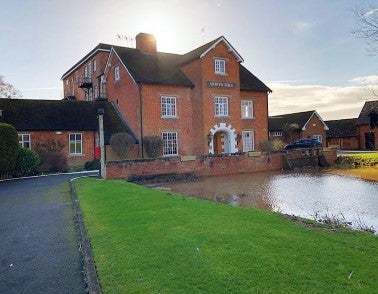 Brunning & Price is made up of a group of over 60 pubs, split between the North West and South East and has been part of The Restaurant Group (TRG) since 2007. Over the past three years Brunning & Price have acquired 16 new sites with Christie & Co assistance and are still looking to acquire further sites in 2018.

Christie & Co continue to be retained to search for suitable properties and Brunning & Price are looking for locations between Lancashire and Kent in rural and semi rural locations with plots of at least 1.25 acres, or urban sites with the ability to create a bar restaurant venue seating at least 120 people.

Simon Chaplin, Director, Corporate Pubs & Restaurants, Christie & Co comments: "We're very pleased to have a flourishing and long standing relationship with Brunning & Price leading to their most recent successful acquisition of the Arrow Mill. As they continue with expansion outside of their current core area of the North West and the South East we are looking for suitable buildings and sites throughout the West Midlands and around locations such as Milton Keynes, York, Oxford and the Cotswolds as well as along the M4 to bring their individual style and quality to a wider audience."