Brunning & Price increase their presence in Ribble Valley
Brunning & Price, the highly successful pub division of The Restaurant Group has acquired the pub group, Ribble Valley Inns through specialist business property adviser, Christie & Co. Ribble Valley Inns was established by the Northcote Group, headed by Craig Bancroft and owners of Northcote, the prestigious Michelin Starred, Relais & Chateaux, Restaurant and 26 Bedroomed Hotel in the Ribble Valley, Lancashire.
Ribble Valley Inns comprises of four sites; The Three Fishes in Mitton, The Highwayman at Kirkby Lonsdale, The Clog & Billycock in Pleasington and The Bull at Broughton, and makes an ideal addition to Brunning & Price's existing sites in the Ribble Valley, the Aspinall Arms and Haighton Manor, which was also acquired through Christie & Co. Brunning & Price now intends to continue the good work established by Northcote and will add the four sites into their portfolio of 62 pubs.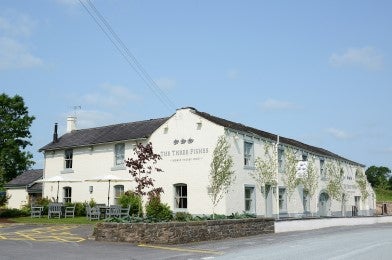 Brunning & Price Managing Director, Mary Willcock, said, "We have admired Ribble Valley Inns for many years and believe that these well-known and long-established businesses are perfectly positioned geographically for us to enhance our presence in the north of England. As always, we feel that a pub should retain its own personal character and look forward to working with the teams locally to ensure they prosper and thrive in the coming months and years."

Craig Bancroft, Managing Director at Northcote commented, "When approached by Christie & Co regarding the potential acquisition of RVI our first question was to who. Once we learnt that Brunning & Price were the interested party it made perfect sense to pursue the enquiry to its conclusion. Brunning & Price are a superbly run Pub operation who invest in their people and their sites, building community food led pubs – very much in the stamp of Ribble Valley Inns, in our view the perfect fit and we wish them a great deal of success – we will now turn our focus to developing Northcote further to continue to lead the North West in Hospitality."

Simon Chaplin, Senior Director at Christie & Co adds, "We have been working with Brunning & Price for over seven years now, helping them source suitable pubs for the estate. We approached Ribble Valley Inns as we could see that the pubs would be an ideal addition to the Brunning & Price portfolio. Their appetite to expand further continues and we are currently looking at several other possible acquisitions on their behalf in the Midlands and South West."

Christie & Co continue to be retained to search for suitable properties and Brunning & Price are looking for locations between Lancashire and Kent in rural and semi-rural locations with plots of at least 1.25 acres, or urban sites with the ability to create a bar restaurant venue seating at least 120 people.