Carreg Llwyd Place in Powys on the market through Christie & Co
Specialist business property adviser, Christie & Co has brought to the market Carreg Llwyd Place, a bed & breakfast with additional holiday cottages, situated minutes from the town of Rhayder, in Powys.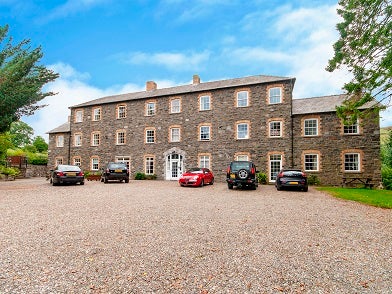 Carreg Llwyd Place was built in 1877, designed by the renowned architect, Stephen W Williams, and has a rich and varied history, originally used as a union workhouse. Following the closure of the workhouses in the 1930s, Carreg Llwyd Place has since been used as a school for the deaf, a military hospital, and a factory, before being turned into the country house hotel it is now.

Mr & Mrs Smyth, the current owners, purchased the property when it was in a poor state of repair and have spent several years restoring and renovating the buildings. The main house is split into three separate properties, comprising a large B&B providing six bedrooms and two self-contained holiday lets, plus six additional holiday lets which are arranged around the courtyard to the rear of the house. Overall, the site can sleep up to 38 guests, with the opportunity to be hired out for exclusive use.

Ideally suited in a scenic, rural setting in the Welsh countryside, Carreg Llwyd Place is close to many natural attractions such as the Gilfach Nature Reserve and the Elan Valley, plus the historical Powis Castle, which are popular with tourists visiting the area.

Mr & Mrs Smyth are now selling the property to focus on their other business interests in the South East and are looking to relocate there. They comment, "We have enjoyed being custodians of this fine historical building and completing the restoration and renovation, but it is now time for a new owner to take the business forward."

Corrina Jones, Senior Business Agent based in Christie & Co's Cardiff office who is handling the sale, comments, "Carreg Llwyd Place is set against the beautiful backdrop of Gwastedyn Hill and the Druid's Circle, is close to the beautiful Elan Valley and is within easy reach of the River Wye. There is ample opportunity for the venue to become a beautiful wedding venue or expanding on the corporate away days and conferences trade. The site would also lend itself as a tranquil retreat due to its location. A viewing is highly recommended to fully appreciate the beauty of the site and the many opportunities that it presents."

Carreg Llwyd Place is currently on the market at a guide price of £975,000 for the freehold interest.