Charming historic boutique hotel in the 'Centre of Britain' for sale through Christie & Co
Specialist business property adviser, Christie & Co, is delighted to bring to market the Centre of Britain Hotel & Restaurant in Haltwhistle, Northumberland.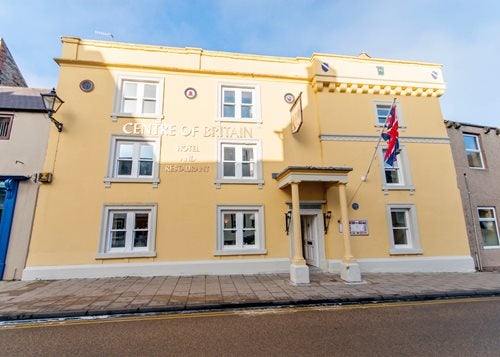 This outstanding 12 en suite bedroomed historic boutique hotel comprises; a restaurant with under floor heating; 'The Garden Suite', which is used for functions, parties and weddings, and has a seated capacity of circa 50; 'The Lodges' which are four self-contained, two-storey lodges, each with a twin or double bed, a lounge area, and a shower room; and 'The Old Dairy' which is a former medieval bastle house featuring three magnificent suites with en suite facilities. The quality of service, food and presentation have earned the hotel excellent reviews on TripAdvisor, UKHotels.com, EBookers.com and Expedia. It has been refurbished with the most up-to-date insulation, heating and ventilation, which means a new owner should have very little or no outlay or upgrade costs for some considerable time.
 
The hotel is steeped in history, which is evident from the array of historic architectural features which have been uncovered throughout the building's restoration and which now form an integral part of its modern presentation. The original hotel was once a Border Rievers' Pele Tower, parts of which date back to the 15th Century.

The Centre of Britain Hotel is located in Haltwhistle, and nearby many of Northumberland's major tourist attractions, including the Dark Sky Park, Hadrian's Wall, and a multitude of quaint towns and villages, making it superbly positioned to capitalise on the region's tourist trade. The town not only attracts tourism and leisure, but it is also a thriving commercial area providing year-round trade and footfall. It also benefits from good road and rail links to Newcastle upon Tyne.

Haltwhistle is well known for being the geographical 'Centre of Britain' and was labelled as such 25 years ago by local business owners, Mr David Taylor and his wife Grethe who, in 1997, purchased, redeveloped, and subsequently launched the 'Centre of Britain Hotel & Restaurant', and have since welcomed thousands of guests from all over the world. They have grown the hotel into a popular business with a healthy turnover but feel that it is time for a new, full-time hands-on owner operator to take over and to further develop trade.

The town was labelled as the 'Centre of Britain' because, whichever way you measure it, from North Orkney to Dorset's Portland Bill, Bowness on Solway to Wallend, Haltwhistle lies in the middle of Britain. This title has garnered the small-town much interest, inspiration, and investment and, of course, is where the hotel gets its name.

David said, "The general, sometimes controversial, reaction to the Centre of Britain has been astonishing. It used to be 'Haltwhistle, where's that?' now it's 'Haltwhistle – The Centre of Britain!' They had never heard of us. They have now!"

Grethe comments, "We love meeting all our guests and have made friends from many different countries. Now, after many successful years, we are looking to retire and take up the many invitations to visit them!" David adds, "As well as a profitable business, I do believe that there is also great potential, with its distinctive crest, to develop the Centre of Britain, as a merchandising brand."

Mark Worley, Director at Christie & Co, who is handling the sale, comments, "Our clients' intentions are to retire. They currently operate the hotel to suit their own lifestyle, however, we are certain that new owners could easily adapt this to increase trade and profits."

Centre of Britain Hotel & Restaurant is on the market for an asking price of £695,000.
 

For further information on this press release, contact:
Phoebe Burrows, Corporate Communications Executive
P: 020 7448 8849 or E: phoebe.burrows@christie.com

Contact the agent:
Mark Worley, Director – Pubs, Restaurants & Hotels
P: 07791 980 852 or E: mark.worley@christie.com
 
Visit our Business Search page to find out more about our current hotel listings.