Christie & Co Pharmacy Review reports increased buyer appetite and a major rise in online pharmacy activity
Specialist business property adviser, Christie & Co, has today released its Pharmacy Review 2021 report, which analyses the pharmacy business property market during the pandemic; looking at sector activity and performance, business property market activity and sentiment, buyer profiles, the rise of online pharmacy, the bank funding landscape, and outlook for the remainder of 2021.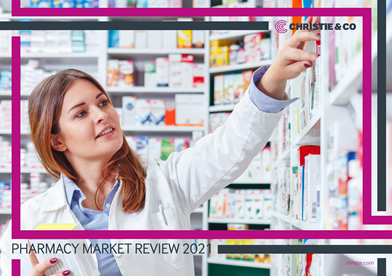 Pricing & Buyer Profile
Increased buyer appetite has been witnessed over the first half of 2021 with such interest continuing to support EBITDA multiples ranging from 7x to 9x for standard hours contracts across England, Wales, and Northern Ireland. In Scotland, the continued combination of a settled funding landscape and the inevitable scarcity of opportunities resulted in EBITDA multiples significantly ahead of the other country regions at between 9x and 12x. Despite stronger multiples, when opportunities do arise, activity is brisk, frequently generating multiple offers well ahead of quoted guide prices.
First-time buyers continue to dominate appetite, accounting for circa 80 per cent of all registered applicants on the Company's national database. However, of circa 140 pharmacy sales completed by Christie & Co in the 16 months to April 2021, only 35 per cent were completed to first-time buyers, with the majority being acquired by either existing independent or small-to-medium multiple operators. This trend is also borne out in its current deal activity where 32 per cent of its sales have been agreed to first-time buyers, with the remaining 68 per cent agreed to a mix of independent contractors or multiple operators, as vendors look for more certainty in selling to experienced operators.
Ownership Landscape
The pharmacy sector's structure remained broadly consistent, with circa 58 per cent operating under independent ownership and 42 per cent under corporate or supermarket operators. However, where corporate operators initiated disposal programmes, many of these pharmacies have been snapped up by first-time buyers or independent contractors.
Technology and the Rise of Online Platforms
Over recent years, the Government has indicated its interest in pharmacy embracing technology and introducing efficiencies in the way medicines are dispensed. Christie & Co's report comments on the rise of online pharmacy platforms and their use of technology to increase market share. There has been over a two-fold increase in number of items dispensed by key online platforms, from 944,000 in January 2020 to 2,043,000 in February 2021. Add to this the threat of Amazonisation and it is likely that competition will intensify in years to come. But, as a percentage of overall dispensing volumes, online/distance selling pharmacies still only account for circa three per cent of all items dispensed, however, this is three times what it was just three years ago.
Whilst it is likely that online competition will intensify in years to come, many in the sector continue to hold a positive outlook for the traditional pharmacy but accept that the current operating model needs to change and embrace digital offerings available, in turn morphing into 'bricks and clicks' business formats, to create a 'stickiness' to the patient, whilst offering the same traditional services and value that only a 'bricks and mortar' pharmacy can deliver.  
Dispensing Activity
The report noted "relatively consistent" dispensing volumes in England over the pandemic, but there were some disparities between volumes in different setting types. Data suggests that average monthly dispensing volumes fell more significantly in health centre environments where surgeries closed their doors to in-person consultations, recording a 6.1 per cent reduction compared with standard/community settings which saw a 0.4 per cent reduction.
Dispensing volumes across the independent sector also fared better than pharmacies held in corporate ownership, with the latter down by 7 per cent compared to the positive gains recorded by independent or small chains at a rise of 3.6 per cent and 2.9 per cent, respectively.
The Funding Market
The report concludes with analysis of the pharmacy market funding landscape by commercial finance specialist, Christie Finance, which saw a 16 per cent increase in activity in 2020 compared with 2019. Despite challenging times, proactive operators have resorted to unsecured short-term funding products to enable them to meet the increased demand and costs they have inevitably had to bear.
Tony Evans, Head of Pharmacy at Christie & Co, comments, "Whilst it is clear that operationally the pharmacy sector has seen huge challenges over the course of the last 18 months, its profile has also increased significantly due to its tremendous response to the pandemic, being the only primary care service to have kept its 'doors open to the public' throughout. This profile has resulted in an increased appetite for opportunities to invest in the sector, something we expect to continue throughout the second half of 2021."
To read the full 'Pharmacy Review 2021' report, visit: https://www.christie.com/news-resources/publications/june-2021/pharmacy-market-review-2021/ 
For further information on this press release, contact:
Phoebe Burrows, Corporate Communications Executive
P: 020 7448 8849 or E: phoebe.burrows@christie.com