7/15/2020
|
Childcare & Education
Elmscot Day Nursery in Nantwich sold to local operator, La Maternelle Ltd, through Christie & Co
Specialist business property adviser, Christie & Co, is delighted to announce the sale of Elmscot Day Nursery and Nursery School in Nantwich, Cheshire, to local operating group, La Maternelle Ltd.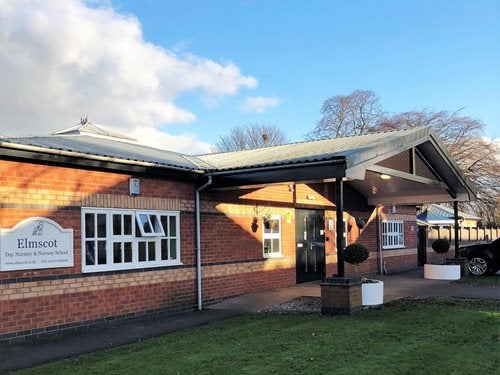 Elmscot Day Nursery is a freehold setting which operates from an attractive, detached property set within a leafy suburb of Nantwich conveniently positioned just a five-minute drive from the town centre. The nursery, which has recently been refurbished, boasts versatile and vibrant playrooms, offering an impressive private outdoor play area, and is supported by a team of highly qualified and skilled staff, including an excellent longstanding full time Manager and Deputy Manager.
 
The business was established by its current owners, Elmscot Day Nurseries Ltd, who own seven exceptional settings located in Cheshire and South Manchester. The group took the decision to sell the nursery as its geographical location set the business a little out on a limb from the rest of the group.
 
Ms Dee Mckenzie, Director of Elmscot Group, comments, "We have worked with Christie & Co on a number of occasions over the years and were extremely happy with the service provided by Sofia and how quickly she found us a buyer. We have loved seeing the children and staff thrive since we took over at Elmscot Nantwich and we are so pleased to hand over to La Maternelle. They are an outstanding local provider who will be able to support them from a closer proximity and are the perfect fit for the nursery."
 
The nursery has been purchased by La Maternelle Ltd, an expanding local childcare operator who already run two high quality day nurseries; one in Wistaston, near Crewe, and one in Sandbach.

Director of La Maternelle, Mr Will Brown, comments, "We are delighted to take over ownership of the Elmscot setting in Nantwich. We are a family business offering high-quality care in Wistaston and Sandbach and are delighted to have this opportunity to offer care to parents in Nantwich. One of the nursery's attributes is a strong family ethos, as the name La Maternelle derives from the French meaning 'A Homely Place'. We care passionately about each child's future, and develop positive partnerships with parents and carers."

Sofia Beck, Associate Director of Childcare & Education at Christie & Co, who handled the sale, comments, "Knowing both the sellers and the buyers well, we were able to match this opportunity suitably. La Maternelle had been looking for a site in Nantwich for some time and Elmscot Nantwich was an obvious strong fit which encouraged a short marketing process. The two parties formed a solid relationship from start to finish, which encouraged the sale to continue and complete despite the current conditions."

Elmscot Day Nursery and Nursery School was sold at an undisclosed price.
 


For further information on this press release, contact:
Phoebe Burrows, Corporate Communications Executive
P: 020 7448 8849 or E: phoebe.burrows@christie.com

Contact the agent:
Sofia Beck, Associate Director – Corporate Childcare & Education
P: 07736 616 687 or E: sofia.beck@christie.com
 
Visit our Business Search page to find out more about our current childcare listings.