1/8/2020
|
Dental Practices
Exceptional Stafford dental practice sold through Christie & Co network
Specialist business property advisor, Christie & Co is pleased to announce the sale of Pure Dental Solutions, an exceptional private dental practice located in Stafford, Staffordshire.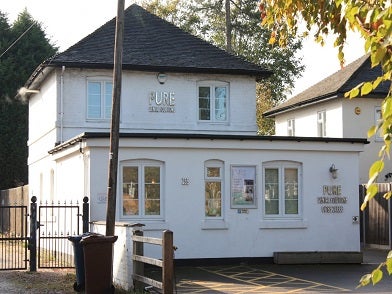 The practice enjoys a prominent trading position on the edge of the affluent town, in an area of mixed commercial and residential users. Comprising two large, well-fitted surgeries, the building is situated on a considerable plot and benefits from large parking facilities to the front and attractive gardens to the rear, presenting a prime opportunity for future redevelopment.

The previous owner, David Gardner, an experienced Principal has owned the practice since 1997. He made the decision to sell to allow him to step back from a management role and focus on practising.

He comments, "Thank you to all the team at Christie & Co for the support you have given during the sale of the practice. We had built a fantastic practice after 22 years of hard work but hugely benefited from the empathetic support and expertise offered, by Jonathan Watson and Olivia Allison in particular. Selling the practice was a life changing event and I'm glad to have had Christie & Co in the background at all times for guidance.

"As a single-handed dentist with many years as a Principal behind me, it's clear that the world of dentistry has changed immensely since the mid '80's. I'm looking forward to re-setting the work life balance while carrying on for a little while yet, providing high quality dentistry without the weight of practice ownership."
  The business has been purchased by first-time buyer, Teodora Ruscheva (Teddy), an experienced dental practitioner and finalist in the Aesthetic Dentistry Awards across four different categories, for two consecutive years (2018 & 2019).

Jawad Anjum, Director at Christie Finance secured the funds for Teddy to acquire the dental practice. He comments, "It has been a pleasure working with Teddy to help her buy her first dental practice. She has kept her eye on the market and has held out for the right opportunity. Her passion is private dentistry and the ideal practice needed to be mostly, if not, completely private.

"Teddy's patience paid off as she came across Pure Dental Solutions which is a fully private practice performing well, a perfect buy. We were able to build a strong business case to present to the banks and obtain the right funding for her. Teddy has all the skills and expertise to continue the success of Pure Dental as well as build the profile and trade, I wish her all the best!"

Commenting on the process Teddy said, "Jawad at Christie Finance has been really helpful in the whole process of arranging and finalising the finance for the purchase of my first dental practice. My financial situation wasn't very favourable for the type of practice that I wanted to buy, but Jawad took the initiative to make sure that he arranged the required funds for the acquisition.

"I have to admit that it has been nerve wracking at certain times, but that was part of the process and they were really supportive at all times. Going forward in your career and taking the 'Big step' is not an easy task, but when you have the reassurance from professional finance brokers, you feel comfortable that the deal will go through, no matter what. There have been moments when I thought that it will not happen, but Jawad re-assured me that this is not the case and they have everything in hand.

"I would recommend Christie Finance, especially if other financial brokers are telling you that there is no way that you can secure that finance. There is a way, always, you just need the right people! Thank you very much again for everything and making my dream come true!"

Olivia Allison, Business Agent at Christie & Co handled the sale and comments, "Having had some bad luck with another agent, I am delighted that we were able to achieve a great result for our client. With David staying on as Associate, and Teddy's drive and passion for dentistry clear to see, it really is an exciting time for the practice! The sale showcases the increasing demand for reputable private dental practices across the North and Midlands."

For further information on this press release, contact:
 
Fiona Fieldhouse, Head of Corporate Communications
P: 020 7227 0793 or E: fiona.fieldhouse@christie.com

Visit our Business Search page to find out more about our current dental practice listings.