Fairytale wedding turns into business dream for Thwaite couple
When Swaledale sweethearts Emily and Darren Abbey created a local legend by hiking over Kidson Hill in their wedding garb to the Farmers Arms at Muker, little did they know that they would end up living the dream lifestyle by purchasing the pub just a few years later.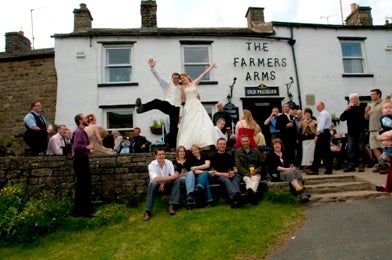 After a successful five years of running the Farmers Arms, Abbey and Darren have now decided to move on, and have appointed specialist business property adviser Christie & Co to sell the pub.

David Cash is handling the sale from Christie & Co's Leeds office said, "We have been approached by an increasing number of people over the past year who, like Abbey and Darren, had never owned a business before but are looking for a lifestyle change.

"Many people covet the opportunity to run a business where they can "live the dream" of working their own hours, being their own boss and live a lifestyle of their choosing, whether that be by a beach, at the top of a mountain or in a stunning part of the countryside.

"This part of the Yorkshire Dales ticks a lot of boxes as a location making it a huge attraction for individuals, couples and families wishing to relocate and run their own operation. The Farmer's Arms is located in a thriving village with a strong local customer base, and is also well-placed to benefit from the high level of tourists who, like the current owners, enjoy a lovely walk across the Dales."

Situated within the stunning scenery and spectacular walking country of Upper Swaledale; this traditional Yorkshire Dales pub boasts a welcoming atmosphere and prides itself on its' well-kept local ales and tasty homemade food, with a varied menu and specials board to cater for all appetites.. With an open fire and a stone-flagged floor; muddy boots and well behaved dogs are always welcome. 

Darren Abbey said, "The Farmers Arms is a Freehouse, which means that it is privately-owned and has no ties to one brewery. This would give new owners a huge amount of flexibility as to how the pub is run, what to stock, and how to spend the profits.

"We're fortunate to have a high footfall of punters throughout the year, as our tourist season sees huge volumes of visitors from early April until late October, but because the pub has such a strong local trade base, we get the best of both worlds."

Emily Abbey added, "We think that the Farmers Arms would appeal to someone who, like Darren and myself, loves the countryside, and would like to strike the right balance by working for themselves while being able to enjoy the benefits of a strong business located in one of the most beautiful parts of the country.

"We had never run a pub before, but, to be honest, with a pub like this one, you don't need to have had the experience, you just need to be hard working and conscientious and you'll reap the rewards – we have had five enjoyable, profitable years, and we can teach the rest with a good handover to the right people."

The Farmers Arms, Muker is on the market at an asking price of £575,000 for the freehold.