Falkirk based Nisa convenience store with impressive food-to-go offering brought to market through Christie & Co
Specialist business property adviser, Christie & Co, is delighted to bring to market a Nisa branded convenience store in Shieldhill, Falkirk.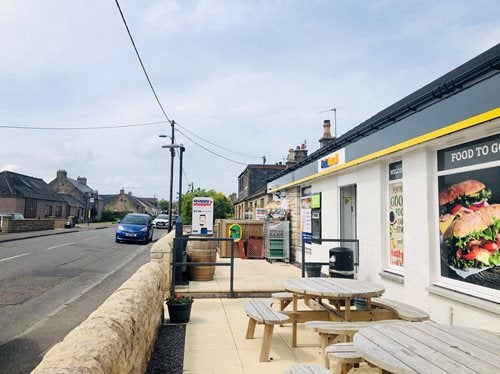 Along with providing locals with day-to-day convenience items, this Nisa store offers a stellar food-to-go operation, the sales of which boast an impressive £7,500 per week on average. The food-to-go service sells, along with a regular offering of sandwiches and rolls, full meals including bbq packs and Sunday dinners. More information around the offering can be found on the store's Facebook page.
 
Another key part of this business is a delivery service, brought to life through the app-based order system, Snappy Shopper, which brings in circa £10,000 per week. Through the app, the store focuses on delivering food as well as normal product lines and alcohol.
 
The premises was rebuilt, extended and fully refurbished in March 2019, so little building work is required on this site, but there is scope to extend the business's popular food offering to attract a higher revenue, should the new owner(s) wish.
 
The store is located in the village of Shieldhill (population: just over 2,500), two miles south east of Falkirk in the heart of central Scotland. It is a short distance from the M9 corridor, with Edinburgh 23 miles to the east and Glasgow 26 miles west. The subject property is situated along the Main Street (B810) directly next door the local church and close to a primary school.
 
The Nisa store is currently owned by Mr Steven and Mrs Catherine Peddie, who have decided to sell in order to focus on other business ventures.

Daniel Arrandale, Director of Retail at Christie & Co, who is handling the sale, comments, "With a strong emphasis on food-to-go meal options on offer throughout the day, Nisa Shieldhill is a wonderful example of modern convenience store retailing. The tie up with the Snappy Shopper delivery app has been hugely successful aided by our clients' prominent social media promotion."   

This Nisa store is on the market for an asking price of £575,000.
 

For further information on this press release, contact:
Phoebe Burrows, Corporate Communications Executive
P: 020 7448 8849 or E: phoebe.burrows@christie.com
 
Contact the agent:
Daniel Arrandale, Director – Retail (Scotland)
P: 0131 524 3403 or E: Daniel.arrandale@christie.com

Visit our Business Search page to find out more about our current retail listings.