First time buyer for Shah Pharmacy in Birmingham
​Specialist business property adviser, Christie & Co has brokered the sale of Shah Pharmacy in Birmingham, with funding secured through specialist commercial finance broker, Christie Finance.
The community pharmacy is ideally placed on one of the main routes into Birmingham, and is in close proximity to Queen Elizabeth Hospital and Birmingham University. The leasehold business offers a standard hours contract five days a week.

Locum pharmacist, Charnjit Dosanjh will be taking over the business and it will benefit from his experience as a locum working previously within both the corporate and independent side of a pharmacy business.

Jassi Sunner, Business Agent in Christie & Co's Birmingham Office who brokered the sale comments, "The sale of this pharmacy was agreed during the implementation of funding cuts and despite this we received a high level of interest and competitive bidding. This was an excellent example of the 'determined first time buyer attitude' to secure their income at a time when locum rates are dropping, Charnjit envisages further growth of the pharmacy from day to day running and we wish him all the best with his endeavours."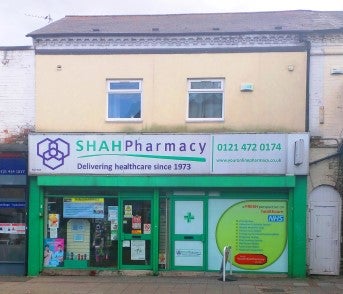 As a first time pharmacy buyer, Charnjit called on the assistance of David Ward, Medical Director of Christie Finance to arrange the specialist funding needed to secure the business. David comments, "It's always great to help a pharmacist like Charnjit get the keys to his very first pharmacy. The Shah Pharmacy will benefit immensely from an energised owner that has many ideas in store to enhance the look of the business and the prescribing services offered to the local community."

Charnjit said of the deal, "This is my first pharmacy purchase and I found the sale was expertly managed through to completion. The details for the business and the introductions to key subsidiaries in the pharmacy sector were crucial in aiding my acquisition. I would have no hesitation in recommending the services of Jassi and David."