8/12/2020
|
Dental Practices
Interest in owning dental practices rises as UK lockdown eases, reveals new data from Christie & Co
Specialist business property adviser, Christie & Co, is pleased to launch its Buyer Registration Index, an analysis of website registrations which indicates buyer sentiment across all eight of its industry sectors, including dental. The first edition of the Index focuses on how buyer sentiment has evolved during the UK Covid-19 lockdown period.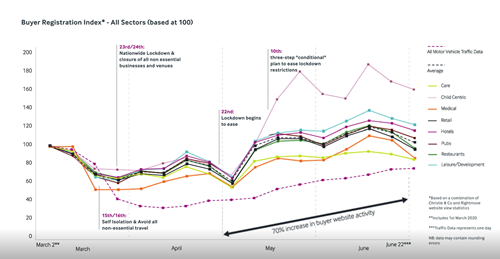 Data derived from the first Buyer Registration Index shows an increase of 59 per cent in dental buyer registration figures from 27 April - shortly after the UK government announced the beginning of the gradual easing of lockdown restrictions - to 22 June 2020. Christie & Co expects this general trajectory of increased activity to be maintained, particularly as banks begin to focus more actively on new lending.

The Index also reveals that all sectors experienced a significant drop in registration figures at the beginning of lockdown. When they began to rise again, the dental sector, compared with the company's seven other sectors, saw a steadier, slower rise in figures than the others - the average rise across the sectors was found to be 70 per cent. This demonstrates that the sector maintained a steady level of interest and support throughout the period.

Paul Graham, Head of Dental at Christie & Co, comments, "The Buyer Registration Index, which shows an uptick in new users, suggests an increase in activity and that buyers are actively starting to look for new business opportunities. We have also recently recorded our highest volume of viewings YTD which is very positive for the sector.

As lockdown measures are slowly easing and practices are reopening, some trends are beginning to appear. For example, certain owners who have enjoyed not being clinically active within their practice during lockdown are now looking to exit from the profession, and there is a noticeable return of demand from corporate buyers looking to buy and build again, with a strong appetite for quality practices.
 
We expect that the market will find its level during the remainder of 2020 and transactions will continue in the second half of this year. Market activity should pick up as banks free up lending. PE will re-engage to take advantage of value opportunities and double down on dentistry as a sought after, needs-driven sector.
 
We expect to see a more of a judicious approach going forward in terms of the calculation of EBITDA as buyers factor in costs of PPE and short term income reductions due to fallow time, and a downward pressure on Associate rates as owners seek to mitigate increases in business costs. Whilst banks will support existing customers, it's inevitable that there will be some distressed sales in the sector. It's also likely that price corrections will affect poorer quality businesses proportionately harder as they lack the financial stamina to adapt."
 
 
For further information on this press release, contact:
Fiona Fieldhouse, Director – Head of Corporate Communications
P: 07738 182 406 or E: fiona.fieldhouse@christie.com

Phoebe Burrows, Corporate Communications Executive
P: 020 7448 8849 or E: phoebe.burrows@christie.com
 
 
NOTES TO EDITORS
The Buyer Registration Index uses data derived from front-end buyer activity on the Christie & Co website and from Rightmove website view statistics, providing a real time indicator of new buyer interest. The data collected covers the period 1 March 2020 to 22 June 2020.