Lease for Bath's Foodie Bugle Shop is up for sale through Christie & Co
Specialist business property adviser, Christie & Co has been instructed to sell the lease of 2 Abbey Street Bath, a property that is currently trading as the well known Foodie Bugle Shop.
The Foodie Bugle Shop is a Bath staple for teas, coffees and irresistible cakes, serving the thriving local and tourist population of this UNESCO world heritage site. They also sell quality homewares that can be purchased in store or via the online shop. The Landlord; The Landmark Trust, the current leaseholders are keen to sell the lease of the property to a young, entrepreneurial buyer.

The property is ideally situated in the City within Abbey Green which forms part of the Bath Christmas market, which takes place over eighteen days every year and attracts more than 400,000 people spending in excess of £6 million. The Foodie Bugle Shop achieved over £25,000 in revenue in December alone; reflecting the desirable positioning for trading of this property during the Christmas period.

Silvana and John-Paul de Soissons, the current owners of The Foodie Bugle Shop, comment; "We have worked really hard to create a welcoming, elegant retail and tearoom space at 2 Abbey Street and the business is up and running smoothly after one year at this site – so the new owners can look forward to hitting the ground running with attractive period features, artisan stock, an effective team and a very strong social media following."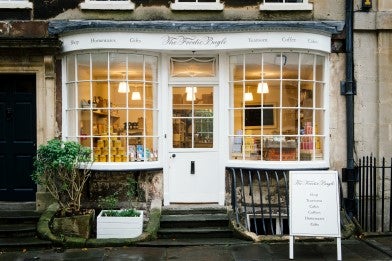 James Ribbons, Business Agent on the Licensed team at Christie & Co has been instructed to handle the sale and comments; "We are delighted to act in relation to the sale of the lease of 2 Abbey Street in Bath, currently trading as the very popular Foodie Bugle Shop. Silvana and Jean-Paul de Soissons are admired business owners in Bath and have successfully run Foodie Bugle for a number of years; establishing the business' reputation for selling wonderful, and delicious, products. We are anticipating a high level of interest in 2 Abbey Street, as we have also recently marketed The Blue Quail in Bath, which generated a high level of interest."

The lease for the Foodie Bugle Shop has an asking price of £35,000.