Leicester pharmacy sold to first time buyer through Christie & Co
Specialist business property adviser, Christie & Co has completed on the sale of Healthcare Pharmacy, a community pharmacy situated in Clarendon Park, a suburb of Leicester, to a first time buyer with experience in the sector.
Occupying a converted and extended residential property, the pharmacy features a raised shop counter, a consultation room and a large dispensary area to the rear. In addition to offering a good collection and delivery service, Healthcare Pharmacy dispenses to a number of surgeries and supplies three care homes in the area.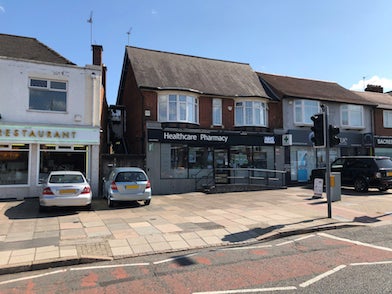 Having owned the pharmacy for 18 years, previous owners and director is now looking forward to retiring to spend more time with his grandchildren and comments, "Having been in pharmacy ownership for many years, we reluctantly made the decision to sell earlier this year. Jassi from Christie & Co came to meet me at my home and discussed the proposal with myself and my wife, and we were happy with his recommendations and strategy in order to get the best price. The market is currently changing due to funding cuts but Jassi expertly managed the process, driving the competitive interest to achieve the best price for us.

"We were pleased with the offers received and are delighted to be handing the business to a first time buyer. With the number of the buyers in the market, it is important to have a good agent on your side. We would be happy to recommend the services of Christie & Co."

New owner and first time buyer, Mr A Kaushik is an experienced pharmacy manager from London and looks forward to building on the success of the previous owners by developing the MUR and NMS services, as well as introducing wholesaling activity and other services, such as flu jabs and smoking cessation. Mr Kaushik comments, "This purchase was my first foray into ownership as I have been a pharmacy manager for a number of years. With the increasing pressures on a pharmacist as a member of staff, I was determined to set up my own business. Jassi guided me through the process amongst all the other applicants and I was delighted that my offer was accepted."

Jassi Sunner, Senior Business Agent – Medical at Christie & Co handled the sale and comments, "Leicestershire is a vibrant area for the pharmacy sector with a number of small regional groups and first time buyers based here. As a result, there was significant interest for Healthcare Pharmacy but my job was to present genuine bidders to our client by vetting those that enquired. This process was made that much easier with the amount of information that buyers were able to provide. Such is the demand that every buyer recognises the importance of providing details of their credentials to the seller.

"This pharmacy sale is yet another example of the positive market in the Midlands, multiple bidding and a sale well in excess of the asking price, despite the drop in turnover due to funding cuts, is not unusual in the current market, and we can expect to maintain high levels of demand."

Healthcare Pharmacy was sold off an asking price of £650,000 for the leasehold interest.