Modern Penarth café on the market through Christie & Co
Specialist business property adviser, Christie & Co has been instructed to market the leasehold interest for the Crazy Café, a high quality café and restaurant in Penarth, South Wales.
Situated on the ground floor of a mixed use development which has recently undergone extensive refurbishment, the café has been fitted to an extremely high standard throughout and comprises a spacious trade area for 48 covers, additional outside seating for a further 12 covers, a fully equipped commercial kitchen, plus ancillary and staff rooms.

Beautifully decorated with marble tables, grey leather and suede seating, and original artwork, the premises occupies an enviable location on one of the main retail parades, overlooking Penarth Pier and the Bristol Channel. Located within minutes of the upmarket residential area of Penarth, Millionaires Row, the café caters to the affluent local community and the multitude of visitors that flock to the area. A traditional seafront town, Penarth is locally known as the Garden by the Sea due to its picturesque parks and is a popular holiday destination year round.

Having been trading for the past year, the business operates under a team of staff and is currently open seven days a week as a day time venue, closing at 6pm. However, under a new owner there is definite scope and demand for the business to extend the opening hours to include an evening service.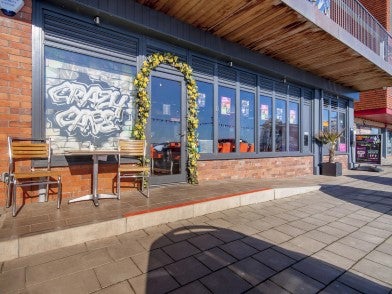 The Crazy Café was set up by Mr Hayward, whose company owns the development and has invested over £300,000 in the business. Now looking for a tenant and owner operator to take the business on and move it forward, he comments, "We have had an excellent first year in the café and have established the offer as one of the best available in Wales with both its food offers and its position. I do not think there is a finer positioned café in the whole of Wales. Our in-house bakery is an unusual feature and makes us unique, and our food offers have added a variety not matched elsewhere in the vicinity. Due to our personal commitments, the café ideally needs a couple to take the venture forward and with experience preferably to reduce cost and inspire the business in other directions besides its current uses. I believe with the right management this café would become the best in Wales."

Corrina Jones, Business Agent at Christie & Co, who is handling the sale, comments, "The Crazy Café is an exceptional offering, and the owner is renowned for investing and developing high end, quality premises with no expense spared. The business is an exciting concept which would be ideal for an owner operator to develop further. Mr Hayward has spent a considerable amount of time and money in establishing the Crazy Café which is going from strength to strength and is now looking for the right applicant to drive the business forward and benefit from the initial investment and risk taken in establishing the business. Our client has proven the concept works and it will be exciting to see the business grow further in the right hands.

"The independent restaurant and café trade in South Wales is growing with customers looking for a high quality, fresh food offering in bespoke settings. This opportunity has it all, both quality and a superb location in a high value area with constant footfall all year round."