5/9/2019
|
Childcare & Education
Munchkins Day Nursery in Essex finds new owner through Christie & Co
Specialist business property adviser, Christie & Co has sold Munchkins Day Nursery, a well established and high-quality children's day nursery in the coastal town of Clacton in Essex, to first time buyer, Richard Cappin.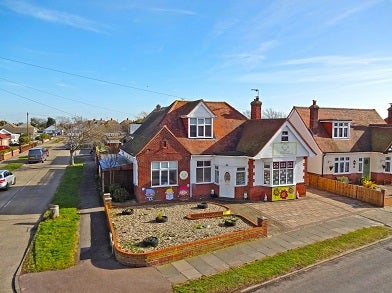 Operating from a converted, two storey property, the Ofsted rated 'Good' nursery has built up a strong reputation in the community and is the only local setting to provide both full day care and sessional day care for 0-5 year olds. Featuring three separate, age grouped rooms, an arts and crafts room, and an enclosed garden area which has been recently refurbished, Munchkins Day Nursery is well equipped to provide excellent day care services for its operating capacity of 40 children.

Due to its location on a residential road in the suburban, coastal area of Essex, the nursery is well placed to provide a 'home from home' setting for children and is convenient for parents in the area.

Previous owners, Jo Callaghan and Lizzie Makins had owned and operated the nursery as part of their group of three settings since 2014 and decided to sell Munchkins due to its location no longer fitting with the group's concept. Whilst still concentrating on their other nurseries, Jo and Lizzie are also focusing on their consultancy business, Callamae Consultancy, which assists nurseries with everything from funding and compliance issues to the look of the nursery, resources and outside space, particularly for small operators and operators who are new to the sector. 

They comment, "Lucy McLean at Christie & Co marketed the sale of our setting and it sold within the year. She was always very helpful and knowledgeable in what proved to be a bit of a tricky sale! We would recommend Lucy as she is approachable, professional and a problem solver!"

New owner and first-time buyer in the sector, Richard Cappin purchased Munchkins Day Nursery and plans to bring his volunteering experience in youth development and childcare together with his experience running businesses to continue the successful trading of the nursery. He comments, "Lucy and the team at Christie & Co were clearly experienced in guiding this kind of nursery acquisition through to completion. We had a few delays along the way, but they assisted in keeping everything moving forward. We are looking forward to working with Christie & Co again in the future."

Lucy McLean, Business Agent at Christie & Co, handled the sale and comments "It was a pleasure working with the parties involved with this transaction and whilst we did encounter some challenges along the way, as with any sale, we were able overcome these due to our communication and commitment to the process. I wish both Jo & Lizzie the best of luck with their other settings and Callamae Consultancy and Richard all the success with the future running of Munchkins."

Munchkins Day Nursery was sold off an asking price of £470,000 for the freehold interest.