New owners to continue success at The Sun Inn
The Sun Inn, a five-star inn and restaurant in Kirkby Lonsdale, on the Cumbria-Lancashire-Yorkshire border has been acquired by new owners, Jenny and Iain Black in a sale brokered by Christie & Co.
Previous owners Mark and Lucy Fuller were at The Sun Inn since 2006.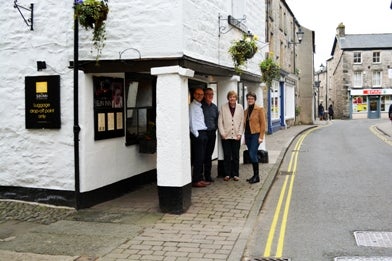 The former and current owners

After starting their careers together, aged 16 in a Cheshire burger joint, the careers of Mark Fuller and Iain Black crossed again in Forte Hotels as General Managers, before coming full circle as they prepared to exchange the 17th century inn and restaurant.

Both Iain and Jenny have an extensive background in hospitality, working in large hotels all over the UK including The Belsfield in Bowness-on-Windermere where the couple met and a number of establishments with Forte Hotels and Novotel in various locations across the UK including Cambridge, Kings Lyne Newcastle Under Lyme and Manchester.

Iain says: "We've worked in Forte Hotels Inns Division in our early career and more recently I opened the Novotel in Manchester City Centre we have always loved Cumbria, we've visited hundreds of times so we're really looking forward to getting started at The Sun Inn. Kirkby Lonsdale is a real hidden gem and we can't wait to settle in the area and get involved in the community too."

Previous co-owner, Mark Fuller says: "When we came into the Sun Inn 11 years ago we completely started from scratch, we're proud of how we have built up the inn and the restaurant, achieving five stars and 2 AA rosettes and a great working team. If we had been able to pick two people to take over as new custodians of the Sun Inn, it would have been Iain and Jenny.

"We'll miss it but we're now looking forward to becoming regulars of the Sun Inn on the 'right' side of the bar."

Over the 11 years at the inn Mark and Lucy achieved numerous awards including Highly Commended at last year's Visit England Awards for Dog Friendly Business of the Year and being named in The Good Food Guide for the past three years.

Iain and Jenny are committed to continue the success and recognition achieved by Mark and Lucy and expect to continue the tradition of success enjoyed by the 350-year-old Sun Inn.

The bar and restaurant at The Sun Inn is open to both residents and non-residents with the restaurant serving lunch and dinner and accommodation available all year round.