Queens Lodge Nursing Home in Blackburn sold through Christie & Co
Specialist business property adviser, Christie & Co, is pleased to announce the sale of Queens Lodge Nursing Home in Blackburn, Lancashire.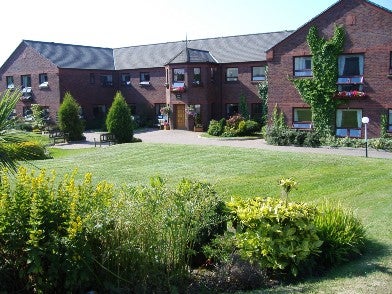 This impressive purpose-built home registered for 40 residents was designed and built in the early 1990s and offers 28 en suite single rooms and six en suite double rooms. The home is set in beautiful, extensive landscaped and manicured gardens for the residents to enjoy.

Queens Lodge Nursing Home is located in the minster and industrial town of Blackburn, Lancashire. It ideally sits opposite the town's main hospital and is very well positioned for major transport links, including the M65, M6 and M62 motorways.

The home has been family-run since its establishment over 25 years ago, most recently being passed down to Fleur and Elizabeth Wilkins who have maintained the highest levels of care for all residents. Over many successful years of trading, Fleur and Elizabeth have decided to sell in order to pursue retirement plans. The pair contacted James Knight of Christie & Co to run a confidential sales process to find a buyer who shared the same vision and principles as their own and who would be able to build on what the family has achieved with the business so far.

Fleur comments, "After 30 years of owning and managing Queens Lodge, it was a big decision to sell but we are confident that, in Anthony, we have found a buyer who shares our ethos of high quality care and who will maintain the excellent standards. We wish Anthony and his team all the best for the future. It has been a pleasure working with James Knight from Christie & Co and we'd like to thank him for working tirelessly to ensure a smooth process and supporting us throughout."

The home has been sold to Anthony Massouras, majority owner of Constantia Healthcare and a very experienced operator in the care sector.

Commenting on the sale, Mr Massouras said, "I was immediately drawn to the Home by the potential to build on a well-run, quality care driven operation where the owners and I shared the same vision of care. Queens Lodge has delivered consistent levels of care in a kind and professional manner for decades through a mixture of its motivated, empathetic, and talented work force and, of course, the overall stewardship of the Wilkins family. Christie and Co, alongside Knight Frank and Shawbrook Bank's specialist Healthcare team – who took an entrepreneurial approach to structuring the debt facility and provided excellent guidance throughout the negotiations – pulled out all the stops to ensure this deal was completed successfully and I am grateful to them all for their efforts. Moving forward, I am now both pleased and excited to take ownership of Queen's Lodge Nursing Home and I wish both former owners health and happiness in their retirement."

James Knight, Business Agent (Care) at Christie & Co, who handled the sale, comments, "It has been a pleasure working with the now former-owners of Queens Lodge. Christie & Co would like to wish them the very best in their future retirement. We would also like to wish Anthony all the best for the future, we are sure he will make this a resounding success."


For further information on this press release, contact:
Phoebe Burrows, Corporate Communications Executive
P: 020 7448 8849 or E: phoebe.burrows@christie.com

Contact the agent:
Nick Brown, Regional Director & Head of Brokerage (Childcare)
P:  0161 833 6904 or E: nick.brown@christie.com

Visit our Business Search page to find out more about our current care listings.