Renowned East Sussex cafe for sale as owners retire and head out on the highway
The renowned and hugely popular Wessons Cafe and restaurant on the High Street in Horam, East Sussex has been put up for sale via specialist business property adviser Christie & Co.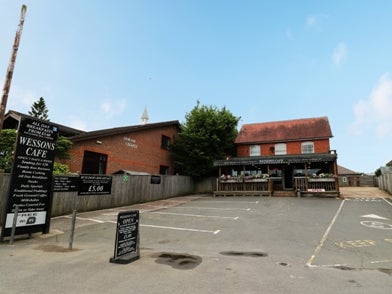 Wessons Cafe has built up a superb reputation for great food and service to its regular customer base of local people, commuters, cyclists and walkers as well as the many motorcyclists who travel long distances to eat there.  Indeed, the breakfasts are something of a legend and the popularity of the café can be seen from the hundreds of positive comments on Wessons' Facebook page.

Wessons has become a real draw to those on powered two wheels and is often a haunt of the motorcycle press, as well as being frequented by one of the oldest motorcyclists in the land, 94 year old Dave Fletcher.

The cafe also attracts visitors reliant on pedal-power, with many cyclists using the venue and recently there have also been keen penny farthing riders, one of whom was reported to be World Penny Farthing racing champion.

After 16 years of running the cafe, current owners Steve & Lorraine (known to her regulars as 'Loz') Wesson are now hoping to retire from the hospitality trade and travel the world.

Andrew Moore, Director at Christie & Co's Maidstone office is handling the sale of the cafe and said, "For the community in and around Horam, and beyond, Wessons is an important part of daily life.

"It is an absolute pleasure to have been charged with selling Wessons on behalf of Steve & Loz.

"Being a keen motorcyclist myself, I very much look forward to helping them find a new owner for the business so they can finally retire and hit the road."

Christie & Co is marketing the freehold interest of Wessons Cafe (which includes not only the café business but also two flats and a vehicle workshop, all on a site of 0.33 acres, along with the right to sell vehicles if desired) at offers in excess of £850,000.