Strathallan Pharmacy in Stirling sold by business property adviser Christie & Co
Specialist business property adviser, Christie & Co, is delighted to announce the sale of Strathallan Pharmacy in Bridge of Allan, Stirling.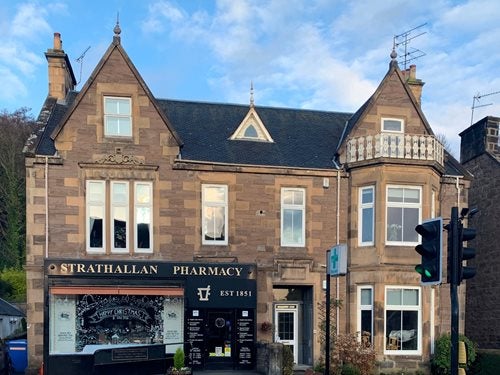 Founded by entrepreneur Mr Gilbert Farie in 1851, Strathallan Pharmacy is the oldest retailer in the popular town of Bridge of Allan. Among the early patrons of the pharmacy was the young Robert Louis Stevenson, who was said to have been inspired by Mr Farie to write the character of Edward Hyde in his infamous gothic novel, Jekyll and Hyde.

The pharmacy occupies the ground floor of an attractive period property on Henderson Street, and has retained some of its original fixtures and fittings which are very popular with its loyal customer base. 

This sale offers a great opportunity for a new buyer to grow the services side of the business which will benefit the local people in the area.

Run by the same family since 1946, Roger Gardner, who acquired the site from his uncle in 2003, has decided to sell in order to concentrate on other business ventures.

The pharmacy has been purchased by Ms Jennifer Weir of Holm Pharm Limited, who lives locally and already owns a group of pharmacies in the same area. She comments, "I am delighted to have been successful in the purchase of Strathallan. It is a great addition to our existing businesses due to location and being a smaller family run business, we appreciate the history behind Strathallan locally."

Karl Clezy, Director of Medical at Christie & Co, who handled the sale comments, "The sale of Strathallan Pharmacy was an opportunity to acquire a well-performing pharmacy in a desirable area with opportunities to grow the business. There is one other pharmacy in Bridge of Allan, Lloyds Pharmacy, located on the same road. We received several offers for the business, which was expected due to the location and healthy turnover."
 

For further information on this press release, contact:
Phoebe Burrows, Corporate Communications Executive
P: 020 7448 8849 or E: phoebe.burrows@christie.com

Contact the agent:
Karl Clezy, Director (Medical)
P: 07885 813160 or E: karl.clezy@christie.com

Visit our Business Search page to find out more about our current medical listings.