Strong performance in UK pubs expected to continue, driving investment from private equity
Specialist business property adviser, Christie & Co provides an overview of the pubs market in the first half of 2019, reflecting on previous predictions, emerging trends and challenges facing the sector.
Christie & Co made three predictions at the start of the year in its Business Outlook 2019 report. Firstly, Christie & Co predicted that pub numbers would continue to decline in order to reach a sustainable and balanced equilibrium with demand; secondly, that despite challenges on the high street there would be opportunities for value growth; and thirdly, that investors and private equity would continue to show interest in the sector. Six months on, and Christie & Co's predictions are proving to be accurate.
Market overview
The pub sector is the stand out performer of the first half of the year, buoyed by several distinct trends in its favour, which resulted in private equity clamouring to enter the sector. Transactional activity began with the material acquisition of 370 leasehold investments from ei Group's commercial property division by investment management firm Davidson Kempner in a £348m deal, which Christie & Co advised on. This was followed by several notable portfolio transactions, including Young's acquisition of Redcomb Pubs in a £34m deal, the sale of Fever Bars to TDR Capital-backed Stonegate Pub Company, and the breakup of Novus Leisure, completed in stages by Stonegate and Shoreditch Bar Group. 

The UK coffee sector has continued to be incredibly attractive, and several UK pub companies had their decision to enter this space thoroughly vindicated. Former brewer Whitbread sold Costa Coffee to Coca Cola for £3.9bn, reflecting a 16x multiple of earnings, followed by S.A. Brain disposing of a majority stake in Coffee #1 to Café Nero in January 2019. Coffee is an increasingly important part of a pub's offering, particularly for driving morning trade, and with the sector forecast to grow at an average 6.8% per annum over the next six years, Christie & Co expects more pub companies to look carefully at opportunities in the coffee sector.

The predominantly freehold nature of the pub sector has contributed to its resilience, with minimal distress contained to a handful of smaller, regional companies that were overleveraged. Some market churn is expected from larger pub companies as they look to pay down debt and refinance whilst the cost of doing so remains affordable. As such, Christie & Co predicts an increase in sizable transactions throughout the remainder of 2019, particularly at the bottom end of the market in the tenanted, leased and franchised subsectors. The possibility of further new private equity entrants remains.

At the start of the year, Christie & Co's Business Outlook 2019 report predicted a continued decline in overall numbers, which the sector is on track to deliver. Closures have tended to be smaller and more inefficient operations, and there has been a notable shift towards larger, more efficient operations, both on the high street and in national and regional operators' investment in new builds. This has increased the overall trade space and number of employees in the pubs sector, whilst also improving profitability despite the rise in operating costs, particularly in staffing.

For high street operators, Christie & Co correctly predicted that the environment would remain challenging. However, rents have returned to more sustainable levels, particularly for secondary locations, presenting tremendous opportunities for businesses who have an offer that can stand out from the crowd and are funded and positioned for expansion and growth. 
 
Emerging trends



Following five years of stabilisation, beer volumes are on the rise again, with volumes growing 2.6% in 2018, according to the British Beer and Pub Association. Moreover, total pub turnover is on the rise, as a result of increased focus on the diverse spectrum of revenue streams.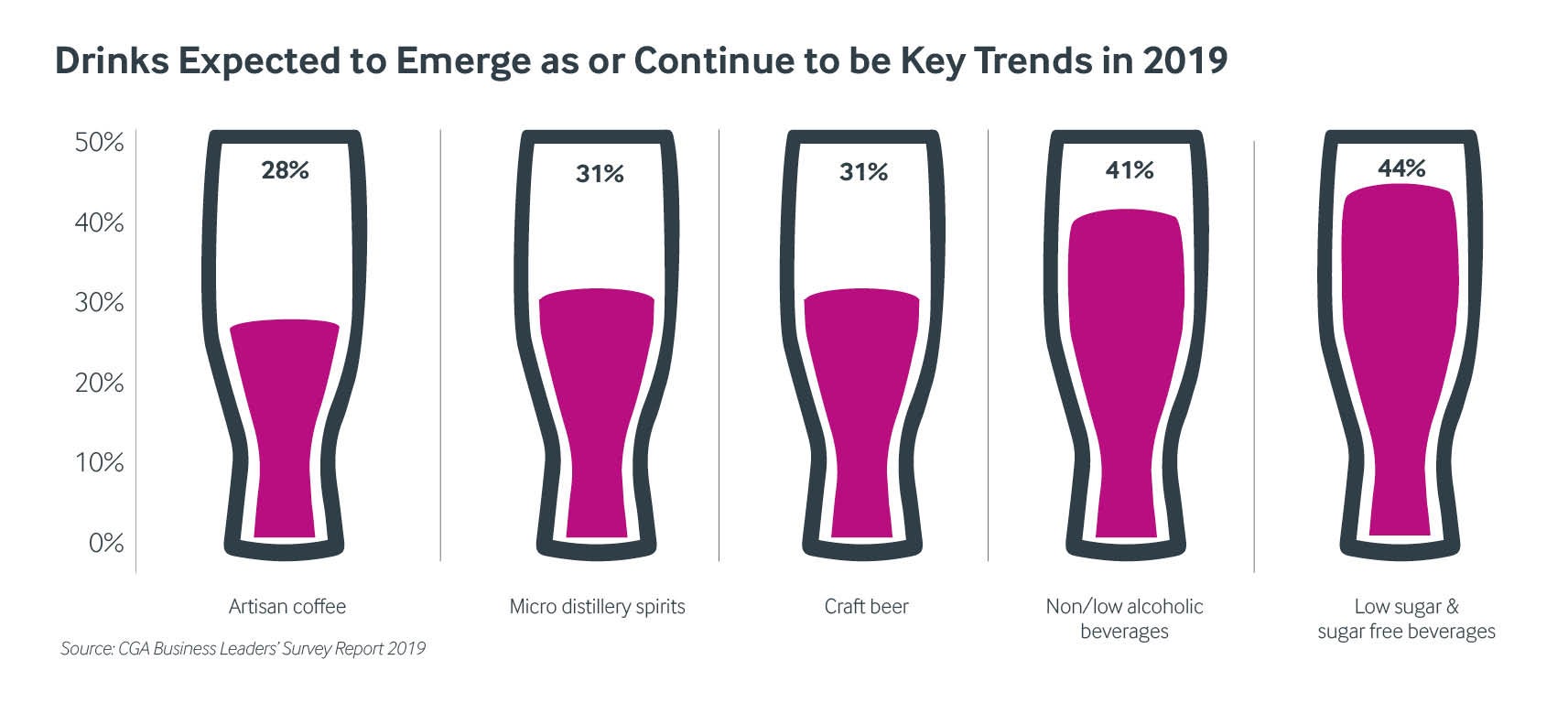 Craft beer and spirits continue to be excellent growth drivers, although a more health conscious consumer is contributing to the meteoric rise of low alcohol, low sugar and low carb offers. Letting rooms continue to deliver, helped by their high margins and with the UK accommodation market buoyed by staycations. Food sales remain an important part of building a successful all-day offer, although are no longer looked to as a driver of significant year on year growth due to competition from an oversupplied restaurant sector.
 
Brexit
The sector has been largely unaffected by any uncertainty regarding the UK's political and economic outlook, although there have been several transactions aborted on the back of vendor expectations that proved to be unrealistic. Whilst gross margins are impacted by exchange rates, the main area of concern remains staffing, with operators lamenting the challenges of retracting and retaining staff, particularly from Europe.

Neil Morgan, Managing Director – Pubs at Christie & Co comments, "The evolution of the pubs industry highlights the sector's adaptability and resilience to challenges and change. We can confidently say 2019 will be a year of two halves and we can expect increased activity throughout the remainder of the year."

Ramzi Qattan, Director – Consultancy at Christie & Co comments, "The sector has received more than its fair share of bad publicity since the last recession, although the reality is that the outlook is incredibly positive. Beer volumes are increasing; craft beer and spirits, as well as low alcohol and low sugar beverages are contributing materially to growth, and letting rooms remain strong performers. There are multiple exit routes available, evidenced by the volume of private equity trying to enter the market as well as Lion Capital's part IPO of Loungers in April. The addition of Davidson Kempner to the list of investors active in the sector may have come as a surprise initially, although with fundamentals where they are, we expect several more new entrants to follow."

Christie & Co will publish its Business Outlook 2020 report, presenting an annual overview and a forecast of the year ahead for all its sectors, including Pubs, in January 2020.