The Mitre Hotel at Hampton Court sold to Signet Hotels
The sale of the freehold interest of the Mitre Hotel, Hampton Court, has completed, having been under family ownership for over 30 years.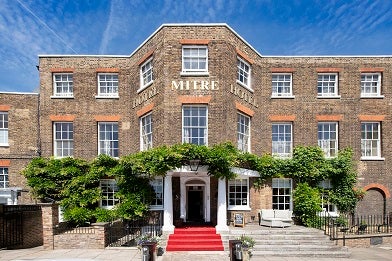 The Mitre was jointly marketed on a confidential basis by specialist business property advisors Christie & Co and Fleurets, and sold to Signet Hotel Group, a newly formed partnership spearheaded by Hector Ross, whose recent CV includes Bell and Dragon group of Country Inns and the world-renowned Beaverbrook Hotel & Spa.
   
The Mitre is a landmark hotel occupying a riverside location next to Hampton Court Bridge and Hampton Court Palace. With origins from 1666, the property was initially used as ancillary accommodation for the palace and rebuilt in the mid-18th century.  Fast forward to 2020 and the Mitre currently offers 36 en suite bedrooms with extensive bar, restaurant and events facilities, all overlooking the River Thames.
 
Alex Campbell, Corporate Hotels at Christie & Co comments, "Along with my co-agents, Paul Hardwick and James Davies at Fleurets, we were able to utilise our combined experience in the market to source and approach an exclusive purchaser list whilst retaining complete confidentiality.  We are proud to be involved with the sale of such an iconic property and look forward to seeing it evolve after the considerable investment Signet Hotels has planned for later this year." 

For further information on this press release, contact:

Fiona Fieldhouse, Head of Corporate Communications
P: 020 7227 0793 or E: fiona.fieldhouse@christie.com

Visit our Business Search page to find out more about our current hotel listings.