​The Three Horseshoes changes hands to local business owner
The Three Horseshoes, located in the historic market town of Monmouth, in Monmouthshire, South Wales, has been sold through specialist business property adviser Christie & Co to local businesswoman Ms Erica Hastings, with a view to transfer her current beauty business into the premises.
This Grade II listed building is arranged over two storeys and began operating in the 1880s, with the property maintaining many original features including sash windows and beams. The site benefits from a large rear garden which leads down to the banks of the River Monnow.

Located within minutes of the main shopping precinct, the business is positioned on Drybridge Street which is one of the main access roads into the town, enjoying a prominent and accessible position for local trade. Monmouth continues to develop as a tourist destination and busy market town, with many independent businesses thriving in and around the town centre.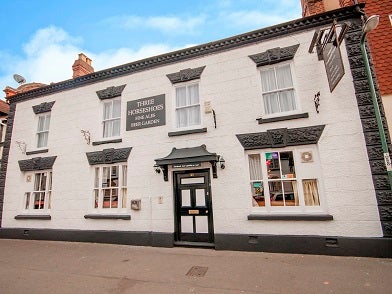 The previous owner, Mr Fletcher, who has run the property since 1990, decided to sell The Three Horseshoes to retire from the pub trade. Mr Fletcher comments, "I would like to thank Corrina for her advice and guidance during every step of the process in selling the business and helping me to retire from the sector.  I would like to wish Erica all the best with The Three Horseshoes."

The business presented an excellent opportunity for new owner, Ms Erica Hastings, who is looking forward to developing the property and her existing business. As she knows the property well she is excited to have purchased the historic building and to be involved in the next stage of its history. She comments, "I am really looking forward to developing my business within the property which is in a fabulous location within the town."

Corrina Jones, Business Agent based in Christie & Co's Cardiff office, who handled the sale, comments, "We would like to wish our client Mr Fletcher the best in his retirement from the trade which is well earned after being at the reigns of the business for nearly thirty years. Monmouth is a beautiful town and the Three Horseshoes is a fantastic period property in a great location. Ms Hastings has exciting plans for the property moving forward which I am sure will enhance the property further.

"We are seeing increased activity within the region since January 2018 and this is reflected in both the increased viewing numbers, offers presented and completions. These are exciting times for South Wales and we are pleased to be able to assist our client in securing a successful completion within 7 months of instruction.'

The Three Horseshoes was sold off a guide price of £450,000.