Three Horseshoes Inn near Hereford sold to local farmer
Specialist business property adviser, Christie & Co has successfully completed on the freehold sale of the Three Horseshoes Inn, located in the Allensmore area between Hereford and Abergavenny, in Herefordshire.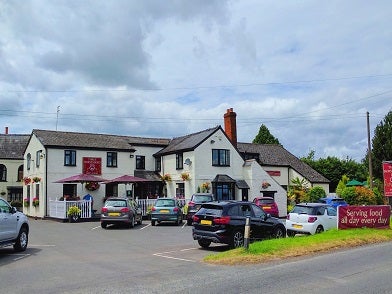 The 17th century traditional inn occupies a substantial detached building and boasts delightful character features such as exposed timber beams in the walls and ceilings and open fireplaces. Comprising several trading areas, the inn has substantial capacity for over 100 covers. Additionally, the property offers three guest letting bedrooms. Situated on 3/4 of an acre plot, the Three Horseshoes presents vast outdoor space with a private terraced garden, decking area and lawn trade garden with capacity for 60 covers, plus a car park which accommodates around 60 vehicles. 

Benefitting from a highly accessible location and close proximity to the popular cathedral city of Hereford, the River Dore and the Golden Valley, the inn profits from passing holiday traffic, particularly during the summer months. The Three Horseshoes also attracts year round trade from the local community and its loyal customer base.

The Three Horseshoes Inn was purchased by Mr Russell Pugh, a first-time entrant to the licensed sector and local farmer whose family has been farming in the area for over 100 years. Producing cattle, sheep, wheat, barley, lupin and even Christmas trees, Mr Pugh owns two sites with a combined 320 acres, one in Preston-on-Wye and one in Allensmore, neighbouring the Three Horseshoes, so he seized the opportunity to purchase the inn when it came to the market. 

Mr Pugh comments, "We bought the pub to diversify the farm and run alongside it. The management and all staff are being retained as they already do a great job and we will be overseeing the business and putting our ideas in to the running of it. We have plans to upgrade the beer garden, removing overgrown planting and reducing the height of the hedge to allow the sunlight in, adding a new pergola on the front patio and a children's play area, with swings, slides and climbing area, all fenced off to make it secure. We are also looking at installing a new baby changing facility. The food is to be sourced as locally as possible, with beef and lamb coming from our farm and some exciting new menus to come out soon!"

Nicholas Calfe, Director of Christie & Co based in their Bristol office comments "There is a continued appetite and demand for high volume well performing pubs, ideally with rooms and dining areas that can accommodate over a 100 covers plus decent outside space. This ensures a consistent level of sales, capable of sustaining a management structure that can offer good quality service and serve locally sourced food at pub prices so as not to alienate its local customers. The added advantage of letting rooms attract a wider audience and sustain trade during the quieter times of the year." 

Three Horseshoes Inn was sold off a guide price of £825,000.