Three months after being sold through Christie & Co, re-branded Larkhill convenience store sees 30% increase in sales
Country Stores, a convenience store on the Larkhill army camp near Salisbury, was sold to established convenience store operator Tony Hobbs in March 2019, through specialist business property adviser, Christie & Co, with funding secured through specialist commercial finance broker, Christie Finance.
The deal was agreed after a discrete marketing campaign, which resulted in seven offers being received within just one week, and ultimately was purchased by Mr Hobbs, who also runs another Nisa convenience store in nearby Porton. He was attracted to the business as it presented huge potential for growth, along with the knowledge that the population of the Larkhill army base is rapidly expanding.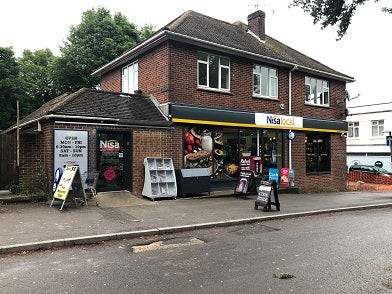 Having maintained a good relationship with the buyer throughout the process, Senior Business Agent at Christie & Co, Tom Glanvill visited the store three months after completion to see the new owner's changes to the business and discuss his experience so far. Tom comments, "The store has been comprehensively re-fitted with a modern industrial chic vibe and the large number of fridges clearly demonstrates the new owner's desire to increase the range of fresh and chilled food. The move to Nisa branding will also bring the benefit of the excellent Co-op range of products. The strategy is no doubt influenced by the huge influx of service personnel soon to be moving to the rapidly expanding camp.

"Astonishingly, the sales are up 30% in just three months which is a fantastic increase and I am sure the soon to be fitted self-service tills and increasing range of alcohol and food to go will see the owners build on this in the coming months."

New owner, Tony Hobbs comments, "Tom Glanvill brought the store to our attention having come and met us at our other store a few months prior. We swiftly agreed to purchase the store and I found the service provided by Christie & Co to be first rate and we would certainly use them to acquire another site and ultimately when the time is right to sell our retail business in the future. We are glad we took the plunge to purchase this store and would particularly suggest other retailers look into the options for raising unsecured finance via Christie Finance, who managed to secure the funds for the refit amazingly swiftly with the money in our account in around a week from the original application."

Brian Love, Finance Consultant at Christie Finance assisted Mr Hobbs in securing the commercial mortgage for the purchase and Natalie Bostock, Finance Consultant in Christie Finance's Unsecured department, supported Mr Hobbs' additional funding for the new store. Natalie comments, "I supported Tony with unsecured funding to provide a cash injection to the business for the store's expansion and assist with ingoing costs relating to the acquisition, after Brian had sourced the mortgage for them.

"With a wealth of experience in the retail sector and having seen the strength of their existing business, I am confident that Tony and his partner Elizabeth will only continue to enhance the performance of Country Stores, as demonstrated by the success they have had so far in only three months."

The store was sold on a semi confidential basis and received offers from a range of corporate and independent convenience store operators. Christie & Co is currently handling a number of corporate disposals and also has a wide range of retail businesses currently available across the country