Traditional Wiltshire inn within National Trust estate finds new owner
Specialist business property adviser, Christie & Co has completed on the sale of the lease for the Spread Eagle Inn, located in the village of Stourton, Wiltshire, which is part of the Stourhead Estate owned by the National Trust.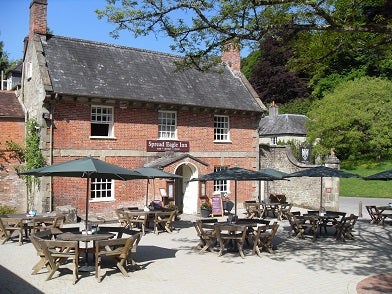 The historic inn dates back to the mid-18th century, with extensions such as the kitchen area and the rear hall and bedrooms added at the turn of the 19th century. Throughout its alterations, the inn has retained many original details, including Georgian and Regency fireplaces, 18th century door cases and original sash windows. The National Trust acquired The Spread Eagle in 1946 when the Stourhead Estate was sold to them by the Hoare family.

Previous owners, Andrew & Angela Wilson had operated the business since 2007, during which time they made subtle improvements to the property, including upgrading the letting rooms, in keeping with the ambience of the building and being careful not to modernise. Mr Wilson comments, "We ran the Spread Eagle Inn on the National Trust Estate at Stourhead for over a decade and whilst we never fell out of love with the business and its beautiful surroundings, it just became far too busy for us to run anymore, so it was time to hand it over to fresher legs. It is after all a prime catering establishment in a National Trust jewel attracting over 450,000 visitors a year.

"Christie & Co successfully marketed the property for us and it garnered a huge amount of interest and many offers where made. We needed to find a suitable but highly experienced operator and in Sam and Cindi we have done so and have left the Spread Eagle in very capable hands. We wish them every success going forward. Our sincere thanks to Nick Calfe for his working in the transfer of ownership and the care he took in listening to our requirements and vetting of applicants."

New owner, Sam Osmanchevich is keen to bring energy, drive and fresh ideas to maintain the business' strong profitability and high level of service – and also to enjoy the inn's unique and picturesque setting. He comments, "We will be now focusing on the evening trade and the locals as well."

Nicholas Calfe, Director at Christie & Co based in the Bristol office, comments, "We are pleased to have sold the leasehold interest of the Spread Eagle Inn for Mr & Mrs Wilson, who can now focus on their other hospitality business, the Olive Bowl, in nearby Gillingham. The new owners will continue running the business under the same management and staffing team and is therefore left in very capable hands.

"The appetite for free of tie leasehold pubs in the South West remains high. The Spread Eagle is a prime example as this business attracted many offers, all of which amounted to the asking price."

The leasehold interest of the Spread Eagle Inn was sold off a guide price of £195,000.