8/17/2020
|
Childcare & Education
Vacant four-storey day nursery in Tameside for sale through Christie & Co
Specialist business property adviser, Christie & Co, is delighted to bring to market a vacant day nursery in Dukinfield, Tameside in Greater Manchester.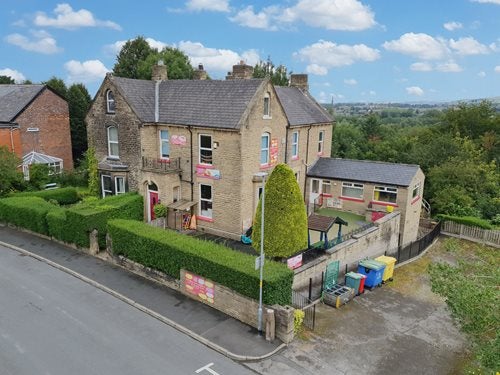 This now-vacant nursery was previously operating as Rainbow Day Nursery, a 53 place day nursery comprising; an attractive four-storey Victorian stone-built property which has been converted and renovated to include six playrooms, three children's bathrooms, and a fully fitted commercial kitchen; two impressive separate, secure outdoor learning environments, accessible from the playrooms; and a private car park as well as on street parking which is ideal for parent drop off/pick up and to accommodate staff parking. Full floor plans are available upon request from the managing agent.

This sale offers up a versatile and vibrant premises with huge scope and potential for a new owner to add their own touches. This is a fantastic opportunity for a purchaser looking to take on a property with D1 planning consent, that is fully equipped to take over and trade from immediately and once all of the necessary applications have been approved by Ofsted, making it an ideal buy for a first-time or existing operator in the sector. The former nursery used to work with local schools and offered a successful before and after school club and full time holiday club.

The site is positioned in a densely populated area and attractive street in Dukinfield in Tameside, Greater Manchester, making it perfect for commuting parents. The property is just five miles away from M60 motorway access and the nearest train stations are Aston-under- Lyne and Stalybridge, with accessible bus stops in close-proximity.

The nursery has been owned by Mr Michael and Mrs Lisa Jones since 2004. Mrs Jones has worked at the nursery since 1992. After buying the nursery, Mrs Jones developed the business by including before and after school care and a full-time holiday club. After dedicating 28 years of hard work and commitment, they have now decided to sell the nursery and to hand over the keys of "Rainbow Nursery".

Sofia Beck, Associate Director at Christie & Co, who is handling the sale, comments, "We anticipate that this opportunity will receive a high volume of interest from the market, as this is generally the case for our non-confidential day nursery listings. There currently appears to be unsatisfied demand from buyers looking for vacant premises to convert to D1 use, who prefer to set up a nursery business from scratch rather than acquire a going concern. This former childcare setting has the required planning consent in place, and is fully equipped, saving a new owner a considerable amount of time and money allowing them to open the doors as soon as Ofsted give the green light."

The site is on the market for an asking price of £425,000.
 

 
For further information on this press release, contact:
Phoebe Burrows, Corporate Communications Executive
P: 020 7448 8849 or E: phoebe.burrows@christie.com

Contact the agent:
Sophia Beck, Associate Director – Childcare & Education
P: 07736 616 687 or E: sophia.beck@christie.com

Visit Christie & Co's Business Search page to find out more about current childcare listings.