Well-established Richmond Post Office offered for sale through Christie & Co
Specialist property business adviser, Christie & Co, has brought to market Richmond Post Office, a successful Post Office in Richmond, North Yorkshire.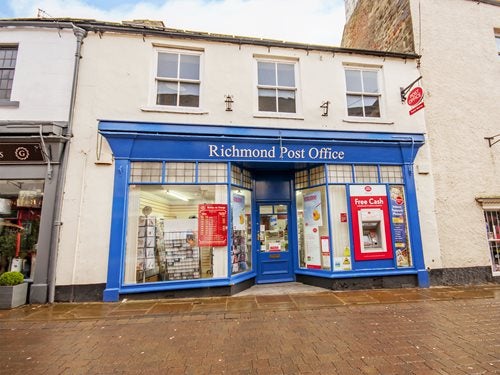 This historic market town dates back to 1071 and boasts many historical sites such as a Norman castle, Georgian architecture and one of the largest cobbled marketplaces in the country. Richmond Post Office is situated on a busy street, just off the cobbled town square. The extremely well fitted, modernised main branch post office enjoys high visibility and great levels of footfall.  

A comprehensive range of Post Office services are offered to customers, including passport checking and vehicle tax, as well as supplementary trade from greetings cards, stationery and ID photographs.

Current owners Richard and Catherine Swann purchased the Post Office in 2003 and, after 17 years of successful business, have decided to sell in order to start pursuing their retirement.   

Andy Birnie, Director at Christie & Co, who is handling the sale, comments, "This is a very well-established Post Office, which offers a new buyer the opportunity to build on the relatively new banking services now available, as well as continue with traditional Post Office transactions. The supplementary trade could also be expanded to include more party-themed stock, seasonal trade, confectionary and soft drinks. In addition, there was a remuneration increase for mains Post Offices from 1 May 2020. This will add straight to the profitability of these branches, making them more sustainable and sought after for new business owners."

Richmond Post Office is on the market for an asking price of £79,950 plus stock.


For further information on this press release, contact:
Phoebe Burrows, Corporate Communications Executive
P: 020 7448 8849 or E: phoebe.burrows@christie.com

Contact the agent:
Andy Birnie, Director
P: 019 1269 7008 or E: andrew.birnie@christie.com
 
Visit our Business Search page to find out more about our current retail listings.