West Midlands care group sold through Christie & Co
Specialist business property adviser, Christie & Co has completed on the sale of the Elderly care division of the Dignus Group Limited, which owns and operates a group of four established care homes across the West Midlands, to RD Capital Partners.
The Dignus Elderly Care portfolio comprises four settings; Richmond Court, Caldene, Bartholomew Lodge, and Bearwood, which are all currently rated 'Good' by CQC.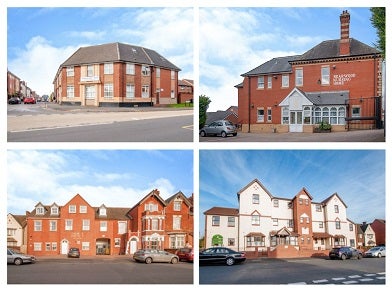 Richmond Court, located in West Bromwich, was the group's first site, originally opened in 1989 after being purpose built and subsequently refurbished to offer 39 single bedrooms, 62% of which have en suite facilities. 

Caldene, which shares a site with Richmond Court, was originally a residential property and was sympathetically converted and substantially extended to create a residential care home offering 27 bedrooms, 22% of which have en suite facilities. The site offers significant potential for expansion and plans have been drawn up for the development of a purpose built 64 bed home, with a further 21 extra care apartments.

Bartholomew Lodge, which was opened by the group in 1991, offers 30 bedrooms, 73% of which have en suite facilities. The home, situated in Wednesbury, provides off road parking and has a secluded garden to the side of the property. 

Bearwood, located in Smethwick, offers 63 single bedrooms, 92% of which have en suite facilities, and also offers its own secluded garden for residents to enjoy. Originally a commercial property, it has been effectively purpose built behind the existing facade and has planning permission in place for a further 16 rooms.

The elderly care portfolio has been owned by the family for almost 30 years, and they decided to sell it to concentrate on their other business activities. Mr Symmr Sandhu comments, "After 30 years in the sector we were finally ready to allow others to continue on with the role of providing exceptional care to both our clients and our staff team who have all become part of the family. It will be difficult to say goodbye, but we recognise that in order to continue on our good work, the group will need another 30 years of commitment which we are confident that the team at RD capital will be able to provide."

RD Capital Partners, a growing investment company in the healthcare industry, acquired the Dignus Elderly Care portfolio after seeing the potential to develop the well-established and quality care homes. Sameer Rizvi, Managing Director from RD Capital Partners comments, "We were attracted to Dignus Healthcare homes in particular because of their urban Birmingham location, their close proximity to each other, their historically maintained 'Good' CQC rating and overall top quality of care. We are delighted to have finally completed this acquisition, after working on the deal for nearly a year. As a result, we have been able to acquire a Birmingham-based care home platform that triples the size of our business. It will be business as usual for the employees and elderly residents, ensuring no business disruption of any nature."

Paul Reilly, Director at Christie & Co, who handled the sale, comments, "The portfolio represented a rare opportunity to acquire four excellent quality care homes. The Sandhu family had painstakingly and lovingly built and developed the portfolio over nearly 30 years and the superiority of the homes was recognised by RD Capital Partners." 

Tamara Gee, Associate Director at Christie & Co, who also assisted in the sale, comments, "The care home market in the Midlands is consistently strong and this is an excellent example of the appetite purchasers have for good quality homes."