5 ways your garden centre could boost business this summer
Our colleagues at Vennersys share some insight into their VenposCloud platform, an all-in-one ticketing and visitor attraction management system, and how it could benefit your Garden Centre venue and its guests.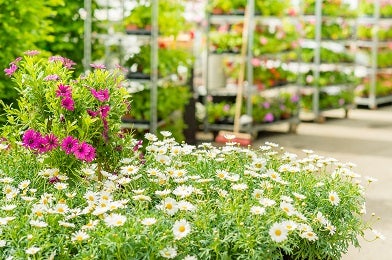 Warmer weather is finally upon us and as such, garden centres up and down the country will be experiencing heavier traffic than usual. 
Yet garden centres have become so much more than a one-stop-shop for gardening enthusiasts; many now sell home aquariums and outdoor-centric home décor, offer food and beverage outlets, run leisure activities, and even host their own seasonal events.
So, with so much going on in garden centres nowadays, how can you boost business this summer?
Our colleagues at Vennersys share some insight into their VenposCloud platform, an all-in-one ticketing and visitor attraction management system, and how it could benefit your venue and its guests. Read on to find out more.
1. An all-in-one ticketing system can help the efficiency of your events
If you're planning on holding special, seasonal events like Halloween fright nights or a Santa's grotto, a comprehensive ticketing system can help you manage the event at maximum efficiency.
Vennersys can offer ticketing solutions for events of any size, from year-round attractions to one-off celebrations. Implementing their online ticketing software could increase online ticket sales by 100% and allows you to gather important data on sales patterns and trends to help inform your future business decisions.
Plus, if your event is going to have a capacity limit, Vennersys' ticketing system allows you to sell timed tickets and different ticket types which can help you manage your visitor flow, preventing long queues and overcrowding.
2. Access to the travel trade module can help increase brand exposure
By working with third party intermediaries, such as travel sites and tour operators, your garden centre could appear on various websites and reach a wider audience. This could help more people find your centre, increasing your footfall and therefore increasing sales and reviews.
A larger number of reviews also makes people more likely to visit your store, especially if you have a wide variety of products or shops on-site, which could further push your sales, too.
3. A points of sale management module could help you organise your sales site-wide
Your garden centre may have more than one point of sale, such as a café, aquatics centre, or connected pet shop. If your venue manages multiple till systems, your staff may spend a significant amount of admin time ensuring that everything is synced up and correct, and it can be difficult to notice patterns or trends in your sales data.
A centralised points of sale management system has several benefits, like giving your customers a smoother service and cutting your employee's administration time. It will help sync important information across all tills, like stock availability, sales data, and cash reports, and help you make more informed business decisions.
4. A table ordering module can help the efficiency of your eatery
On the topic of secondary points of sale, does your garden centre have a café or restaurant attached to it?
If so, you may also benefit from the table ordering module which minimises contact between guests and employees, reduces queues and wait times, and streamlines the ordering process at eateries, no matter the size.
Your customers can order directly to their table or for collection via their mobile phone, reducing wait times and increasing staff efficiency. Plus, an online system helps you upsell and provide promotional offers which could boost food sales.
5. The digital stock management module can help you stay on top of your inventory
Moving your stock management system to a digital platform will give you real-time updates of your stock availability and costs across all points of sale in your business, all in one place. Depending on how your till system currently operates, this could reduce your admin time by 50% and, if you have an online store, increase online revenue from upsells by 20%.
Not only does it help you see what stock you have available, which can help you to avoid overselling sold out stock, but it can also act as a database for suppliers and contacts. This prevents you from contacting the wrong supplier when ordering a restock or mixing up contact email addresses.
Get in touch
To understand the full range of benefits Vennersys' digital software could give to your venue, or to speak to a member of the team about their other garden centre solutions, please get in touch. 
Email contact@vennersys.com or call 01922 472 044 to speak to a member of staff.