3/26/2019
|
Dental Practices
Business bites – regional overview
This article was first published in Dentistry on 19 March 2019.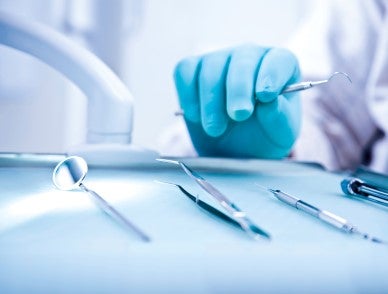 With location becoming more and more important in the dental market, in this month's 'Business Bites,' our national team of specialists looks at how the market varies from region to region across the UK and what we expect during 2019. 

What effect is the current shortage of dentists having on the market, what types of practices are in greatest demand and who is buying them? Are banks still supporting the sector and why is a new breed of investor attracted to the dental sector at a time of such significant change?

London & the Home Counties
Steve Darbon, Associate Director

Historically one of the 'hot spots' in the UK, we see no shortage of buyers for all practice sizes and types across the whole of London and the South East. Despite a recent shift in appetite for more private led practices, where margins are less constrained, the market is still underpinned by the stable revenue that NHS income provides.

Following the recent round of NHS orthodontic procurement across the South, we have noticed a sharp rise in interest for practices of this type, now that the new seven and three year contracts have been granted. Of particular note is the ongoing demand for practices within Central London from single surgery clinics, especially where clinicians are happy to remain post-sale, through to three or four surgery opportunities that lend themselves to growth. Small portfolios, groups and landmark single sites also generate interest from independent owner operators, regional multiples, emerging and established corporates, as well as investment from private equity backed buyers. 

Whilst the core towns and cities across the South East remain relatively immune to the current associate shortages, practices in coastal and rural areas are having to carefully manage recruitment and retention to ensure protection of revenue. In general, the regional market is robust, with no signs of slowdown.

South & South West Wales
Oliver Snowden, Director

The South of England enjoys the same level of demand as in London and the South East. In particular Hampshire and Sussex, which are close enough to London to enjoy the positive influence of that market, are areas of high demand. Further west into Dorset, areas of larger conurbation such as Bournemouth are also popular. South Wales is a diverse market with extensive corporate activity and increasing focus on private practices in and around the major towns and cities, such as Cardiff and Swansea. In western parts of both regions, the market tends to be dominated by independent operators and generally, but not exclusively, smaller practices. 

Recruitment of dentists is a common theme throughout certain parts of the UK and the South West in particular is not immune. The more remote areas of the region tend to find recruitment more challenging, where buyer demand tends to soften slightly as well.

Midlands
Steve O'Connor, Business Agent

The market in the East & West Midlands remains active, particularly in the larger towns and cities, such as Nottingham, Birmingham and Leicester.

Moving forward, we expect the disparity in values between rural and urban practices will continue, primarily driven by challenges in recruiting dentists and support staff in more remote locations.

NHS practices continue to generate significant interest from buyers, but a number of first-time buyers and multiple operators now only considering predominantly private practices.

Overall, we anticipate a lot of activity across the Midlands throughout 2019, as existing principals consider a sale while sale prices are high and the younger generation of dentists remain eager to enter practice ownership or grow their portfolio further.

North
Jonathan Watson, Director

With new entrants entering the region, including private equity backed groups, we are expecting a surge of transactional activity across the region.

The regional workforce in the North continues to thrive as dentists pursue higher pay rates compared to other regions. According to our data, dentists in the North are paid an average of £10.45 per UDA, compared with £10.01 and £10.20 in the Midlands and South, respectively. Property prices are generally cheaper too, making the North of England a very attractive proposition for both independent and corporate operators.

The choice of purchaser is more diverse than ever before and the prices paid for dental practices continue to rise in the region, particularly around major conurbations, such as Manchester, Leeds, Liverpool, Newcastle and York, where recruitment is not an issue.

Scotland
Paul Graham, Head of Dental

The central belt and neighbouring regions, including Lanarkshire, East Lothian, Fife and the Angus region, remain the key focus for buyers in Scotland, attracting more attention as market activity remains robust. 

Whilst the differences in the system for NHS remuneration in Scotland mean that some corporates are deterred from acquiring, there is a general and noticeable drift north by many other buyer types who are encouraged by lower prices and better returns. 

Whilst the rhetoric from the market is that associate pay scales are decreasing from 50% closer to 40%, we are now seeing first-time buyers are fuelling the lower end of the market as they aim to secure their own practice and have better future financial control. We are also seeing multiple operators acquiring associate led practices as they create mid-sized groups, and at the top-tier, there is a huge drive from private equity backed groups who are looking to consolidate. 

Overall, the regional landscape is positive for principal owners looking to sell, with demand outweighing supply, market pricing increasing and the extensive buyer pool being well supported by lending institutions.