11/21/2019
|
Dental Practices
Christie & Co all smiles as influential dentist David Houston provides study day for the Dental Team
Christie & Co was delighted to welcome immensely experienced dentist, Dr David Houston to its head office on Carmelite Street, London recently for a full day of immersive dental education.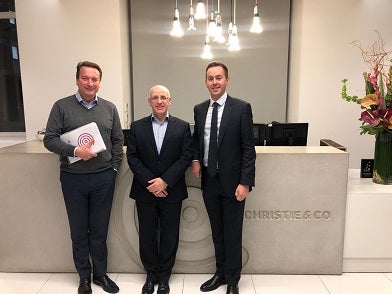 David set up and built the Houston Group from a two-chair practice into one of the leading independent groups in the UK prior to selling the business earlier this year through Christie & Co. He lectures widely on many aspects of the profession but has a particular interest in the business of dentistry.
 
The full dental team from Christie & Co and Christie Finance came together, including agents, valuers and finance brokers, for an educational and engaging day. David was able to share tremendous levels of technical content with the group, ranging from the intricacies of delivering NHS dentistry to the secrets of running a successful practice.
   
Reflecting on the day Paul Graham, Head of Dental at Christie & Co comments, "We were proud and honoured that David was able to join us for what was a hugely informative day of detailed content. We are always eager to enhance our sector knowledge across the team and what better way to do that than benefit from the vast experience that David is able to share so passionately. It was refreshing to see everyone round the table, regardless of their role or level of experience, engaging and sharing their own perspectives on the dental industry."
  David comments, "It was a privilege to be able to speak to a firm as august as Christie & Co and the privacy of the setting, together with the nature of having an informed audience of industry professionals allowed the dissemination of what I hoped would be a "real world" insight. I feel certain that the dental arm of Christie & Co will continue to flourish with dedicated and conscientious individuals in-post."
Christie & Co would like to thank David for his hugely beneficial time with the dental team and look forward to his next informative session.