7/6/2018
|
Childcare & Education
Christie & Co hosts day nursery sector seminar for operators and investors
Gathering together childcare operators, investors and experts from across the sector, we hosted our Childcare & Education seminar at our London office on Thursday 5th July, providing some insight on different aspects of the industry plus the current market landscape.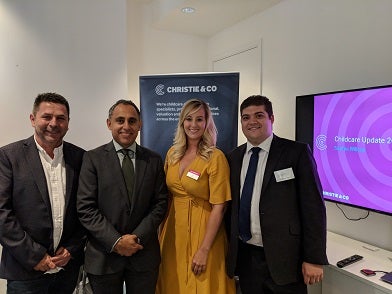 Together with the panel of expert guest speakers, an open format Q&A session was held which allowed the seminar's attendees to weigh in and address any issues or changes they feel are impacting the industry as a whole and their own businesses.

Along with my market overview of 2018 so far the current buying and selling trends in London and across the UK, we covered key areas of interest for setting owners and operators, with the other speakers: Matthew Kavanagh from Christie Finance on the different routes to securing the right funding option; Jas Singh from Pickford Solicitors on choosing the right expert legal advisor to ensure the smoothest transaction; and John Warren from John Warren Consultancy on managing and maintaining the quality of your setting and Ofsted inspections.

As part of the market overview, it is clear that appetite has been consistently strong, with the first half of 2018 the busiest period I have seen personally in five years in the industry. Despite Brexit, international investment hasn't slowed, with big deals involving US-based group operator Bright Horizons and increasing interest from Asian investors keen to capitalise on the highly regarded EYFS framework in the UK.

There is also good news for the small group and single setting operators, of which make up 80% of this highly fragmented market, as high quality nurseries offer premium value. Though there have been challenges for operators through the increase of the National Living Wage, a lack of trained staff available, and managing a sustainable way of providing the 30 hours of free childcare. The impacts of these challenges vary depending on a number of factors such as location, demographics, the size of the setting, the split between private paying vs fully funded customers and local authority rates to supplement free childcare, which varies from region to region.

Overall however, the industry is thriving and picking up momentum, as our record volume of sales, completed during the first six months of 2018, wholly evidences. 

Matthew Kavanagh discussed how Christie Finance supports clients in finding the right lender for their specific needs and business aims – it is vital to shop around and compare lenders, not just stick with one that you know as often they might not be the right fit for your purpose. Additionally, Matthew noted that recently banks have created a specific Childcare arm for business lending, as previously it was included as part of social care and elderly care, ensuring a more relevant service for businesses.

On the legal side of things, Jas Singh highlighted why having a solicitor with expertise in the sector gives business owners an edge in any transaction, ensuring efficiency throughout the deal. Also having a legal advisor who knows the process and can prepare not only the buyer but also the seller on what is required, such as the timeframe and what to expect from due diligence, will make both parties more comfortable.

Offering in-depth insight as a previous Ofsted inspector, John Warren noted the importance of ensuring childcare settings meet the basic requirements which are often overlooked, such as consistent hygiene practices, supervision, and staff engagement, when undergoing a rating process. Once this is done, pushing your USPs and high quality curriculum is what can help settings achieve an 'Outstanding'.

One highly prevalent question from the floor as part of the Q&A was 'what is the biggest pitfall when acquiring a childcare business or group?' Trying to change too much too quickly is the short answer. When entering a recently acquired setting it is so important to listen to staff and parents and get the feel for the nursery before trying to input any change. Assessing the need for change of each unique setting is paramount to avoid any unnecessary backlash from staff or interrupting the consistency of care for the children – what works in one nursery may not work in another.

Overall, the event provided a great way to gain feedback from those on the ground in the childcare and education sector but also to share thoughts and advice on what is a complex and often challenging industry.