COFFEE BREAK with… Jamie Williams, Associate Director - Retail
Coffee Break with… is a Christie & Co series showcasing the brilliance, expertise, and diversity of our network of over 200 employees.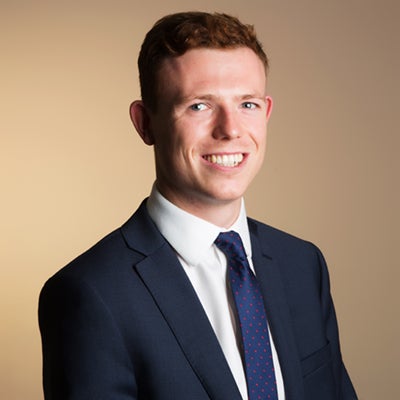 When did you join Christie & Co?
October 2018.
Where were you when you accepted your role at Christie & Co?
Outside a tube station, having just met with Chris Day.
What was your first job?
Café Assistant at a local car museum, lots of washing up!
In a couple of sentences, can you tell us a bit about your job at Christie & Co?
Helping retailers in South West England and South Wales to buy and sell convenience stores, Post Offices and forecourts.
What's your favourite thing about Christie & Co?
The mixture of office work and meeting with clients face-to-face each week. 
If you could pick a favourite project that you've worked on at Christie & Co so far, what would it be?
It would have to be Littles' Stores in Nether Stowey. 15 weeks between launch and sale, wish they were all that quick!
What's been the biggest challenge of your career so far?
Getting to grips with appraisals and confidently pricing a business/property.
What's been a highlight of your career so far?
Being named Retail Business Agent of the Year in 2020.
How has the industry changed since you started at Christie & Co?
Development of electric vehicles and announcement of government schemes has created uncertainty in the forecourt market. COVID-19 has resulted in more demand for convenience retail businesses as they are seen as being robust.
Who in your industry do you feel most inspired by?
My parents. They have worked in retail for over 20 years, I guess it is in my blood.
Tell us a bit about your life outside work – what are your hobbies?
I am a huge sports fan - playing football in the winter and cricket in the summer. Outside of that, Bristol has an amazing food scene and I've enjoyed eating at loads of great places. I have a list on my phone and it is always being added to.
What's your hometown? Where do you live now?
I grew up in a small village called South Barrow in Somerset. I now live in Bristol, a 10-minute walk from the Christie & Co office.
Where's the best place you've been on holiday?
New Zealand or Sri Lanka.
What's your biggest pet peeve?
Messiness, I'm a bit of a perfectionist. 
If you could live and work in any city, where would you go?
Barcelona, I'd like to establish retail for Christie & Co there!
What would be your desert island meal?
A roast with all the trimmings, followed by apple crumble and custard.
What's your favourite film?
Gladiator.
What is your favourite movie quote?
"Ah you think darkness is your ally" (Bane – The Dark Knight Rises)
What is one thing on your bucket list?
Travel in South America.
What is your biggest fear?
Not a huge fan of creepy crawlies!
What news source do you read every day?
BBC.
To read more of our "Coffee Breaks with..." blog posts, click here.