COFFEE BREAK with... Becky Relf, Marketing Manager
Coffee Break with… is a Christie & Co series showcasing the brilliance, expertise, and diversity of our network of over 200 employees.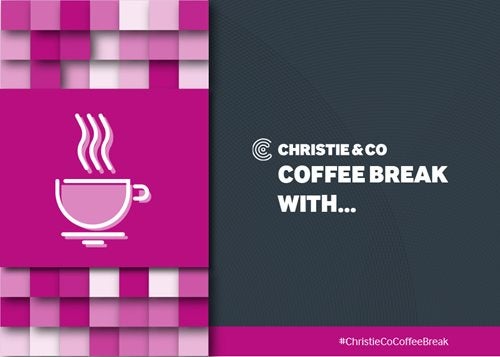 When did you join Christie & Co?
March 2020.
Where were you when you accepted your role at Christie & Co?
In Bromley.
What was your first job?
Washing up for a country inn in Kent when I was 15.
In a couple of sentences, can you tell us a bit about your job at Christie & Co?
As Marketing Manager for the Care and Childcare sectors, I work closely with Managing Directors and Regional Directors to ensure that the marketing strategy is aligned with the sector and wider business objectives.
I develop national campaigns targeting our customer base, from independent vendors/buyers through to corporate clients. My job includes creating marketing collateral to position the business in the best way to achieve a successful outcome when seeking to win work, this includes copy writing, delivering e-campaigns, working on advertising, events, brochures, reports, adverts, pitches, and presentations.
What's your favourite thing about Christie & Co?
My team and colleagues. I'm lucky to work with creative, smart and fun individuals.
If you had to pick a favourite project that you've worked on at Christie & Co so far, what would it be?
I've really enjoyed generally helping to produce some new documents for my teams. I love working with design on the creation of IMs and pitches, and seeing basic copy turn into something visually engaging.
What's been the biggest challenge of your career so far?
Probably being sent to work from home two weeks into my job at Christie & Co and supporting the business as part of the active team during the pandemic. It has definitely been a challenge!
What's been a highlight of your career so far?
In the past, in a standalone marketing role, I helped to create a brand for a private care company. In the process I learned about the care industry, dementia, care standards, and met some fantastic individuals.
Who in your industry do you feel most inspired by?
Charlotte Williams, founder of SevenSix Agency. She's a blogger, and social media influencer, producing brand campaigns with diversity and inclusion at the centre, setting a standard for others to follow. She also created several successful digital campaigns for Sanrio and Hello Kitty, which I'm a big fan of.
Tell us a bit about your life outside work – what are your hobbies?
I enjoy everything to do with the theatre and, pre-COVID-19, was often found on the stage, usually performing in comedy roles. The role I last played was the Good Fairy in a non-traditional version of The Sleeping Beauty. I also enjoy sketching and walking my King Charles Spaniel dog, Errol.
What's your hometown? Where do you live now?
I'm from Tonbridge in Kent and now live in South East London.
Where's the best place you've been on holiday?
I've been lucky enough to travel to a number of brilliant places, but I really enjoyed a trip to Rome that my boyfriend took me on. I love the culture, history, food, and people. Such a great city.
What's your biggest pet peeve?
Fake news on social media and people believing it!
If you could live and work in any city, where would you go?
Barcelona, but not forever, just for a year or so.
What would be your desert island meal?
Gnocchi and blue cheese sauce to start, roast beef with all the trimmings for main, and Eton mess for dessert.
What's your favourite film?
Labyrinth - it's weird, wonderful, has David Bowie in it, and reminds me of my childhood.
What is your favourite movie quote?
"Mmmhmm, this is a tasty burger." Samuel L. Jackson, Pulp Fiction
What is one thing on your bucket list?
To perform some stand-up comedy.
What is your biggest fear?
I really can't stand heights.
What news source do you read every day?
BBC News online.
What's your social media platform of choice?
Facebook.