Comment: Know your options to navigate the future of roadside retail
After a busy but enjoyable few weeks of industry events, punctuated by temperature-checks and lateral flow tests, I've had time to reflect on fuel retailers, suppliers and industry bodies' general view of the looming 2030 Road to Zero government deadline, and what this means for petrol filling stations.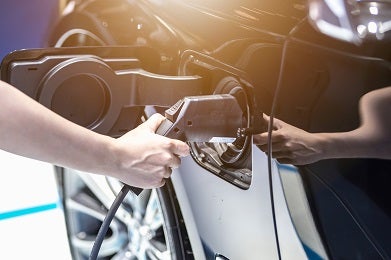 I suspect electric vehicle (EV) drivers will have been sniggering at the media-driven panic-buying of fuel recently. However, I'm convinced through our regular conversations with people across the industry that we are still a good couple of years away from a meaningful uptake of pure EVs – despite the best efforts of the media (and possibly the Government) to tell us that petrol stations are doomed! The stark reality is that the Government will have to price petrol and diesel cars off the road, as the Dutch Government has done in The Netherlands. There, a raft of driver incentives means the uptake of pure battery EVs is around 21% versus 6.6% in the UK. It will be a politically unpopular decision if this happens in the UK but one that Greta Thunberg would no doubt approve of. Can you see this happening?
Former British motorcycle racer turned TV presenter Guy Martin recently modified a 50-year-old Beetle, installing a Tesla motor among other upgrades, in an attempt to create the world's fastest electric car, and shone a light on another important message. The Channel 4 programme was delivered in the usual informative and entertaining Guy Martin style. However, his long and expensive journey to John O'Groats using a brand new EV highlighted the challenges around taking longer trips. He concluded that mass adoption of EVs is still a couple of years away for anyone travelling long distances. Although he was impressed by the new cars being offered by manufacturers, the reality is they will remain impractical for those travelling regular long distances until the rapid-charging network is significantly improved. For most they remain cost-prohibitive.
At the recent ReFuelForum UK 2021 conference, the topic of electric vehicles was high on the agenda. One principal debate: 'From Grid to Forecourt' explored the potential integration of EVs and how petrol filling stations might play their part (if any) in this transition. The fundamental takeaway from this session was that to play any meaningful part, existing forecourts will need multiple rapid chargers to attract profitable custom. Tech-savvy EV drivers will simply default to the nearest rapid-charging facility their chosen app takes them to, which is likely to be a specifically-designed and built EV charging facility, hotel, restaurant, retail park, supermarket or anywhere else convenient that has installed rapid chargers, and where they can 'grab and go' or dwell comfortably. Let's face it, most short-distance EV drivers will recharge overnight at home or work.

To read the full article on Forecourt Trader, click here.