3/24/2020
|
Dental Practices
Covid-19: Impact on the Dental Sector
Paul Graham, Director (Head of Dental) at Christie & Co, looks at how the coronavirus pandemic is impacting the dental sector at the moment, and what this means if you're looking to buy or sell your practice in this current climate.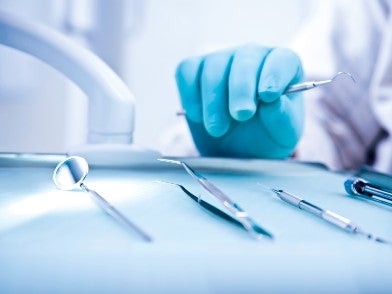 Update as of 26/03/2020
Earlier this week (w/c 23 March 2020), we saw a set of stringent regulations implemented by the UK government in a bid to eliminate further spread of the coronavirus where possible.
On 25 March, NHS England issued a statement to dental sector professionals which laid out a series of new measures put in place to ensure NHS dental workers and its patients remain as safe as possible during these truly unprecedented times.
These measures are as follows:
NHS practices are required to stop all routine, non-urgent dental care and only carry out urgent dental care via Local Urgent Dental Care Systems. All practices should establish (independently or by collaboration with others) a remote urgent care service, providing telephone triage for their patients with urgent needs
2019/20 NHS contract performance will be flexed by a month to include March 19 performance rather than disrupted March 20 - this is positive news as we know March is an extremely active month in NHS dentistry and this step should mitigate clawback for many in the 2019/20 year
NHS contracts will continue to be paid monthly providing all staff (including associates, non clinical and others) continue to be paid at previous levels
However, an agreed and fair reduction for any variable cost associated with service delivery (in recognition of reduced consumable costs), will be applied to all contract values
With regards to 2020/21 clawback reconciliation, this has not yet been announced however, we appreciate there will need to be a great deal of flexibility on this to reflect current circumstances 
All other relevant guidance from NHS England and NHS Improvement on dental care in England can be found here.
Whilst a few articles in circulation state that it's "business as usual", at Christie & Co we appreciate the unprecedented nature of these times and how we need to adapt to support our clients during this period.
While some of the larger dental groups may decide to pause aggressive acquisition programmes, approximately 80% of Christie & Co practice sales since January 2019 were to independent purchasers. There are more than 10,000 independent practices in the UK meaning we expect no decrease in supply of businesses for sale over the next few years. Bank appetite remains steady within the sector - our colleagues at Christie Finance are on hand to answer any queries you may have relating to funding.
We have seen an increase in demand for dental practices so far in 2020, this is thanks to a combination of factors:
Rapid expansion by smaller regional dental groups
Corporate consolidation for the top tier of practices
Private equity investment in the sector
Banks that are keen to lend and happy to support first-time buyers
At Christie & Co, historically, the above has led to over five consecutive years of average price increases in sales so, despite the current unprecedented situation, this appetite isn't and shouldn't change once the crisis is over.
The market in general is considered to be robust and often referred to as safe haven for investors – even in the current climate we're seeing a degree of confidence and optimism for new business, and the current pipeline of deals which have been agreed/in legals has not been negatively impacted to any great extent.
Many buyers seem to be opportunistic to agree terms at today, particularly because of the lead time from terms being agreed to actual completion, on average takes six months – the likely view is that the market will have settled again by that point.
What impact is the virus having on dental practices?
Interestingly we have seen more of a surge in activity for NHS practices. The sentiment coming from the market is
If a buyer is currently working as an Associate, then their income will begin to reduce as a direct result of fewer patients coming to the practice. Therefore, deals have been accelerated somewhat, in order to transition from Associate to Principal owner
If a buyer is a practice owner already, then the early suggestion is that monthly NHS monies will continue to be paid but this may be reduced to reflect lower overheads during this period
Another benefit within the NHS at present is that it's our understanding that clients should avoid a breach notice under the Force Majeure clause for not fulfilling their contractual delivery obligations
With regards to private practices, unless there is a viable proportion of secure income being guaranteed via a plan provider, then these opportunities look likely to be 'paused' for a period of time. The tone from buyers is that they still very much want to complete the deal, but an extension of time is required beyond the current pandemic
It is yet to be formally confirmed, but we have heard from a senior BDA committee member that discussions with NHS England might lead to NHS practices continuing to be paid, likely at a reduced amount to reflect lower overheads during this time, with amended clawback arrangements whereby no clawback will be made (subject to certain reasonable conditions, for example, if it proven that the underperformance has occurred due to COVID-19).
Similar support is also being reviewed for Scotland and Wales. This position changes daily and further live updates can be found on the BDA (British Dental Association) website.
Have Christie & Co seen much change to the way that the dental sector is operating? 
It's early days still, but unless the practice for sale is a flagship site, then the major corporates are unlikely to complete. However, they are continuing to express interest and where possible get Due Diligence underway.
In terms of regional corporates, we've seen some transactions across the country successfully completing and aiming for others to complete imminently.  These owners (with healthy financials) are of the view that this could create an opportunity for them to buy up practices in the next six months or so, allowing them to significantly expand their businesses. So, hopefully not all doom and gloom.
If you own a dental practice and want to sell now, is that going to be possible?
In brief, yes. Our UK team are still seeing activity from potential sellers who are asking us to provide advice. Despite physical visits to practices now being impractical in the short term, we understand that some practice owners who are ready to sell will not be able to wait indefinitely. With this in mind, we are more than happy to conduct 'desktop appraisals' – providing you with the same detailed report, but without risk.  
We are also more than happy to conduct meetings via video call in order to give clients and prospective clients greater comfort during these unprecedented times.