Event Recap: Propel Summer Conference 2021
Representatives from our Corporate Pubs & Restaurants team, including myself recently attended the Propel Summer Conference 2021 at the DoubleTree by Hilton Oxford Belfry – the first in-person multi club event in 18-months due to the Covid-19 pandemic.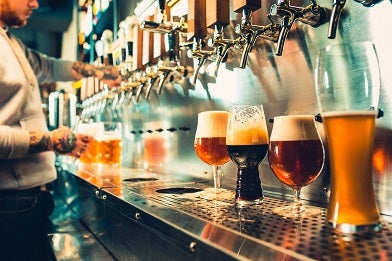 Focussed on "New Directions and New Ideas", the conference attracted over 250 people from across the industry, including operators, suppliers and industry experts. The schedule included 18 speakers from a mix of new and established brands, concluding with an insightful panel discussion on the future of the sector, featuring industry leaders: Kate Nicholls, UKHospitality Chief Executive; Charlie McVeigh, Drafthouse Founder, sector investor and The Breakfast Club Chairman; leading industry commentator Paul Chase; Mike Parnham, Managing Director of Rum Kitchen and Mark Davies, Chief Executive of Hawthorn.
Throughout the day, speakers recalled how their brands have survived the pandemic, by adapting to the ever-evolving challenges that have resulted from the virus outbreak, with recent issues such as staff shortages and supply problems emerging as key topics. Above all, it was uplifting to learn there is a shared positive outlook towards the future and opportunities that exist for the industry.
The day began with Yasha Estraikh, Associate Partner at leading investment firm, Piper (backers of Loungers, Turtle Bay, Be At One) giving an insight in to their criteria when looking to invest, some of which applies to the types of businesses we are selling.

Key considerations include:
Vision – what is it?
Local engagement – does the business reflect the local area
Use of technology – ordering, stock control etc
Use of data – optimising data made available by customers to promote brand offerings
Staff – is there a revolving door or solid team
Property – is the balance right. Loungers always seek rents at 5% of sales
All day, neighbourhood operation – most relevant now in the working-from-home environment
Multi-channel – Delivery now plays a part
International – Would the operation appeal elsewhere in the world
What is the exit plan?
 
These were similar to the key ingredients outlined by another investor and speaker, IMBIBA's Darrell Connell, whom Christie & Co work with on regular occasions. He added to this by sharing an insight into the types of hospitality businesses and markets where he sees growth, one of which is alcohol free venues, which are certainly growing in popularity in other parts of the world.
The next three speakers Tim Wilks, founder of Lane7; Sam Jones, Managing Director of Junkyard Golf and founder of Boom:Battle Bars, Richard Beese all hailed from the world of "competitive socialising", shining a light on this age-old concept which appears to be a re-emerging trend and buzzword as of late. Mixing sport and drink has been around in pubs for hundreds of years, even dating back to Medieval times with games such as 'Ringing the Bull'. However, the industry's reinvention over the last few years now sees it involve activities such as bowling, ping pong, axe throwing, and indoor crazy golf, mixed with high-end hospitality and leisure experiences.
Lane7, Boom:Battle Bars and Junkyard Golf are just a few of the current brands tapping into the growing demand for these experience-led offerings which appeal to a wide range of consumers. This will be an exciting area to watch over the next few years.
Phil Eeles of Honest Burger then challenged the audience to re-think traditional management structures and consider giving every member of staff ultimate responsibility as a way forward, certainly living up to the brand with his own honesty around the topic!
Following the presentations, guests were invited to network over drinks, into the evening and beyond. It was wonderful to catch up with our friends across the industry after so many months apart and this where all of the best business is done of course.
The Propel Conference presents an invaluable opportunity for key hospitality figures to connect and discuss key trends, new ideas and challenges facing the industry. We look forward to announcing some exciting projects over the coming months as a result of the event.