New COVID-19 Three-Level Lockdown Alert System: What does this mean for pubs?
On Monday 12 October, Boris Johnson announced the details of a new three-level Coronavirus lockdown alert system for England, to tackle the recent surge in coronavirus cases.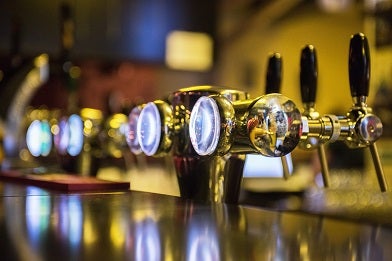 Update as of 16/10/2020

From Saturday 17 October, a number of areas including London will move to the 'High Alert' level and face tougher restrictions. As a result there will be a ban on households mixing indoors, including in pubs and restaurants.​

The areas to go into high alert restrictions this weekend are: London, Essex (apart from Southend and Thurrock), York, North East Derbyshire, Chesterfield, Erewash in Derbyshire, Elmbridge in Surrey, and Barrow in Furness, Cumbria.

To find out the coronavirus restrictions in your local area visit the dedicated government website:
https://www.gov.uk/find-coronavirus-local-restrictions?priority-taxon=774cee22-d896-44c1-a611-e3109cce8eae  
...
 
The new system, which will come into place from Wednesday (14 October), will label regions with either a medium, high or very high alert level based on their number of coronavirus cases, with each tier imposing increasing restrictions for socialising and visiting venues within the retail, leisure and hospitality sectors.
 
The new local lockdown system will be as follows:
Medium level – consists of current national measures, including the rule of six and the 10pm curfew across hospitality premises. This will apply to most of England
High level – aims to reduce household-to-household transmission by banning the mixing of different households or support bubbles indoors. This alert level will apply to most areas already under local restrictions
Very High level – sees people banned from socialising with other households indoors and in private gardens. Bars and pubs will also be closed in these areas unless they can operate as restaurants
 

This new alert system could lead to further closures to businesses and job losses within the hospitality sector. The recently imposed 10pm curfew and rule of six are already a large cause for concern for operators and causing trade to be down by between 40 and 60%, so the threat of a second round of forced closures will cause much anxiety for publicans across England.

The Liverpool City Region will be amongst the first regional areas to be placed on the highest alert level, with stricter measures in place as a result. Disappointingly for the hospitality sector, this means pubs will be required to close indefinitely from Wednesday (14 October). Nottinghamshire, east and west Cheshire and a small area of High Peak will also be moved on the high alert level.

Chancellor Rishi Sunak has offered further support for affected businesses and employees, announcing an expansion of the Job Support Scheme (JSS) for areas in local lockdown on Friday 9 October. The additional measures mean the Government will pay employees who cannot work two thirds (67%) of their salaries up to £2,100 per month; welcome respite for operators in tier three areas.

However, there are questions as to the effectiveness local lockdowns will have in stopping the spread of the virus and the lack of support for businesses in tiers one and two. Trade bodies are calling for the government to reconsider the mandatory 10pm curfew in those areas where virus numbers are low.

Stephen Owens, Managing Director of Pubs & Restaurants at Christie & Co comments, "Whilst widely anticipated, the new restrictions are a further blow to a much-beleaguered hospitality sector. Since the introduction of the 10pm curfew, trading conditions have deteriorated, and these additional restrictions will only further harm businesses.

Operators within the sector who find themselves within the tier three category are looking at the opportunity to move to trading as restaurants as a means of keeping afloat. However, their ability or not to successfully take advantage of this option will be an indication of consumer confidence. The additional government support offered by Chancellor Sunak is welcome but there are still concerns it may not be enough and further measures may be required in order to ensure the survival of a healthy hospitality sector."
 
For further information, visit the following key trade websites:

UK Hospitality: https://www.ukhospitality.org.uk/page/Coronavirus 

British Institute of Innkeeping (BII): https://www.bii.org/
 
Please get in touch if we can be of any support to your business at this time.
 
Stephen Owens FRICS MCIArb
Managing Director – Pubs & Restaurants

T  
M  
E  stephen.owens@christie.com