12/6/2019
|
Dental Practices
Q&A with Stuart Allan
Dr Stuart Allan is one of the country's most influential dentists who works as an adviser for the NHS as well as still practising clinically. He is the Chair of the Greater Manchester Federation of Local Dental Committees (LDCs) and was recently announced as Chair Elect for the national conference of LDCs. Jonathan Watson, Director on Christie & Co's Medical team, who handled the sale of Dr Allan's practice in the summer, talks to him about his views on the market.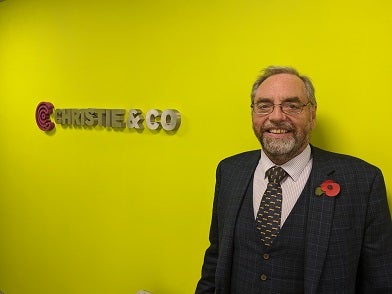 Throughout your time working in the dental profession what are the main changes you have noticed?
Materials have come on leaps and bounds, and techniques have had to follow.  I think the biggest change has been in adhesive filling materials.
Patient understanding has also increased hugely resulting in increased expectations and inevitable complaints.
However, some things never change, for example primary care dentistry was underfunded 40 years ago and remains so.
 
How about changes in the last five years?
The provision of implants has increased, they had been in a very early stage of development in the 1970s but are now reliable and another weapon in our armamentarium.  They are good value for money but costly. One change which has not happened is a new NHS contract. We seemed to start talking about this in 2006 almost as soon as the current contract started and are still waiting!
 
You owned your practice for almost 40 years, how were your first and last days as Principal?
I bought a partnership with the then principal, where I was an associate so the only change was the practice manager advising that she would carry on using my forename despite my "elevation"!  I knew all the staff of course, so the real difference was the loan repayment coming out of my bank account monthly.
My final day as principal was anticlimactic, I had kept my staff fully informed at the various stages so there were some tears but no surprise.
 
Did you ever consider selling earlier in your career? What swayed your decision?
I was appointed a dental practice adviser 11 years ago which meant I spent more working time out of the practice than in it for the first time, so I decided to allow my manager to step up to the plate and become effectively associate lead. It worked, and I enjoyed (and still do enjoy) providing dental care so I carried on.
 
Do you expect the dental NHS contract to find a balance between volume and clinical standards?
The Holy Grail!  The profession is very highly regulated, so clinical standards are really a given. More importantly will the new contract balance prevention and treatment?  The profession spends the vast majority of time treating two diseases which can be prevented.  It seems the issue is convincing the Treasury that they would benefit from investing in preventative strategies, to avoid the work becoming necessary.
Has the way you recruit changed and what recruitment challenges are operators experiencing?
I am tempted to say "no experience" as my staff arrived and tended to stay for years (or decades, I better had not say how many!).  However, I am aware in my position as a DPA that we have a great shortage of dentists, maternity cover is very difficult if not impossible and the number of potential staff responding to advertisements has plummeted.  Nursing staff are also similarly thin on the ground.
 
What got you into dentistry initially and what do you think the main focuses are for associates now?
Being my own boss, working in health care and working with my hands.  My impression is that younger colleagues are less interested in being the boss?
 
Do you see more women qualifying as dentists and buying practices?
Yes, to the point where male dentists will be a minority, possible a very small minority.  As this change works through the age groups inevitable there will be more female colleagues buying practices. Why not?
 
Having just sold your practice to a first time buyer, what advice would you give to associates looking to become a practice owner now?
Professional advisers (solicitors, sales agents, financial advisers etc) can assist you with the "business" side but remember you are an expert as you work in dentistry.  What is your gut feeling? How are the staff?
 
What are your predictions for the future? How do the challenges differ for future generations?
My crystal ball is not better than anyone else's!  I think treatments will be far more automated, even now in some of the prototypes testing the new concepts have very detailed checklists which then inform treatment planning.  The delivery of primary dental care in the UK is incredibly efficient so there will be little appetite to force practices to merge and to move into managed premises (unlike our medical colleagues).  That said it will become increasingly difficult to practice alone; for example, a decontamination unit costs a similar amount for one or three surgeries.  I expect there will be special allowances for colleagues working on the NHS where geography forces solo practice.
I anticipate dentistry will be (finally) integrated into the wider NHS and we will have access to real time medical records/medication etc.
 
How do think Brexit will affect dentistry?
Two years ago, for the first time, the majority of new admissions to the dental register gained their primary qualification overseas (mainly the EEA) so if we lose this source we must either build domestic training (eight year time lag) or recruit from the third world.  The vast majority of dental equipment and supplies are imported from the EU; we will have to either re-establish domestic manufacture or possibly face tariffs which will drive operational costs up.
 
What makes you optimistic about the sector?
Patients!  I really enjoy interacting and despite my best efforts they keep needing dental care.  The most important consideration is that there is a continuing need which will not cease anytime soon.
At the time of sale Stuart commented on the process: "I always thought moving on would be a wrench but when I finally grasped that nettle, Christie & Co could not have been more helpful and professional. I had a clear outline of what I could expect and numerous carefully vetted interested parties were introduced to the practice. Once an offer had been made and accepted, they were on hand to deal with the inevitable minor hitches. It would be wrong to give the impression that a practice sale is stress free, but with Christie & Co it is manageable."